The 'Coco' Opening Scene Was Almost A Spirited Musical Number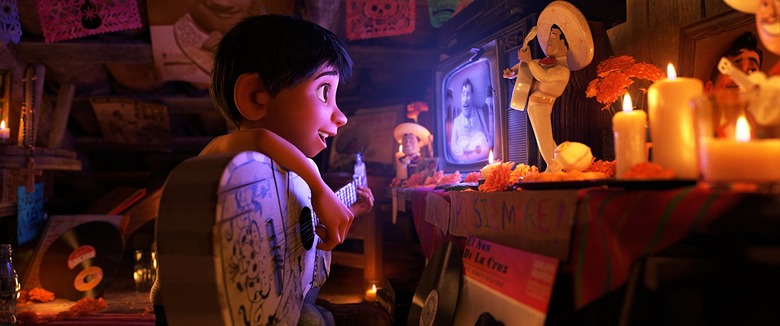 Coco begins in an unusual fashion. Young, aspiring musician Miguel (Anthony Gonzalez) dramatically recounts the story of his family's past as the people within the story spring to life via the colorful papel picado banners that decorate the streets of Mexico on Dia de los Muertos.
As stunning as the animated papel picado drawings are, it's a bold choice to not show our hero immediately, and even bolder to dive into a generations-long family history. But it ends up working perfectly for the film, which above all, is a story about family. However, for the many years that Coco was in development at Pixar, the animated film had a very different opening.
Coco is as much as celebration of music as it is a celebration of family, though directors Lee Unkrich and Adrian Molina balk at describing the film as a full-fledged musical. There are musical numbers, sure. Skeletons break into song, Miguel plays guitar to a crowded party, Miguel and Hector even dance. But it's not a musical.
But if the Coco alternate opening scene had remained, it would have been.
The deleted scene comes via USA Today, who shared the elaborate musical sequence that initially introduced Coco. In the scene, skeletons and living humans dance in tandem, singing exposition about Dia de los Muertos and about the concept of the ofrenda that would tie the movie together.
Watch this exclusive spirited opening musical number from #PixarCoco you didn't see: https://t.co/EKwL7RX8OE pic.twitter.com/Q2weNTWCja

— USA TODAY Life (@usatodaylife) February 6, 2018
It's a scene strikingly similar to Ernesto de la Cruz's Tinseltown-inspired "Remember Me" number. But maybe too similar. The scene was ultimately cut after being attached to the film for many years, Unkrich and Molina say in their introduction of the scene.
A few months ago, Unkrich toldo CinemaBlend why they ultimately cut the scene:
Ultimately, in both of those cases, it was taking a long time until we met Miguel and got our story started and so we ended up trying this way of opening the film where we frontloaded his backstory or his voice right from the very beginning. It saved us from having to tell all of that backstory later, which is always clunky trying to do it in the body of the storytelling.
It was the right move. The scene is incredibly flashy and entertaining, but plays rather clunkily thanks to the chunk of information being dropped on the audience. And while de la Cruz's glamorous number works as a way to set himself apart from the earthy comforts of Miguel's family, the alternate opening just doesn't jibe with the rest of the movie.
Coco hits Digital HD and Movies on February 13, 2018, and comes to 4K, Blu-ray, and DVD on February 27, 2018.