'Jessica Jones' Season 2 Trailer: The Hard-Drinking Anti-Heroine Is Back, With Even More Problems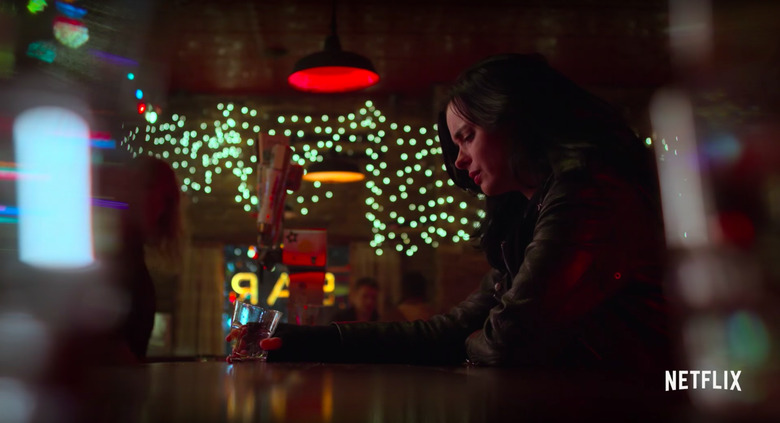 Jessica Jones (Krysten Ritter) is finally back in her acclaimed solo series, but her newfound fame has not been kind to her. Despite the triumphant defeat of her rapist Kilgrave in Jessica Jones season 1 and a new alliance with her fellow streetwise vigilantes in The Defenders, Jessica is spiraling. The first Jessica Jones season 2 trailer invites us to witness that spiral.
The full trailer for Jessica Jones season 2 opens with Jessica hitting the bottle hard, resentful that her hard-won, traumatic victory against Kilgrave has only gotten her admiration she doesn't want and conflicts she can't handle. Some of those conflicts are new — a rival detective agency! — but some are astonishingly familiar.
Jessica Jones Season 2 Trailer
Jessica Jones' troubled past comes to the surface as she grapples with the experiment that turned her into a superpowered freak. The second season finds the P.I. investigating IGH, the shady organization that funded her operation after an accident killed her family. And the most shocking thing she discovers is that she's not alone.
It's a full-on Stranger Things season 2 twist! Jessica Jones is just one of many child experiments made by this mysterious corporation, which opens the door for a whole new slew of traumatized outsiders with superpowers. Could Jessica team up with these fellow experiments to take down IGH? Will they end up becoming her newest foes? (Maybe we could see Typhoid Mary!) Or will Jessica's hunt for these victims be superseded by another familiar face, as hinted by that trailer ending?
That's something that we'll have to find out when Jessica Jones returns to Netflix in March. Expectations are high for the sophomore season to the series, whose tense, harrowing first season was unquestionably the best of the Marvel-Netflix projects. And with Netflix's recent Marvel superhero series all landing with a dud, the pressure is on Jessica Jones to bring back critical acclaim.
The season 2 trailer also comes with a new poster...and of course it features Jessica with a cold, hard drink nearby.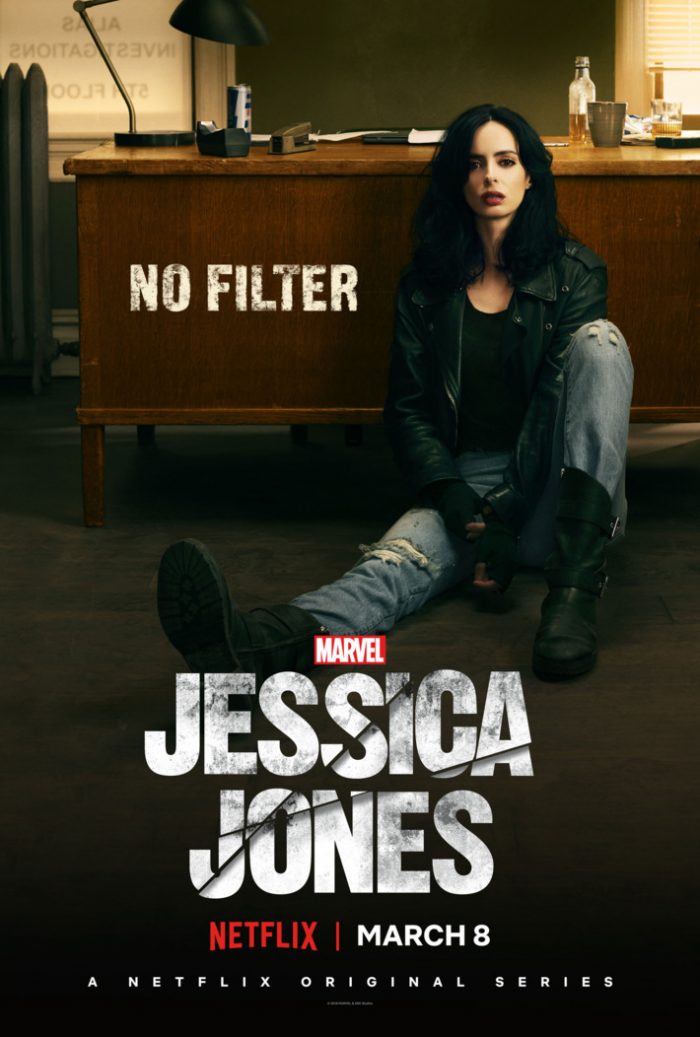 No official synopsis for Jessica Jones season 2 has been released yet, but Digital Spy has a preliminary synopsis for the season:
New York City private investigator Jessica Jones (Krysten Ritter) is beginning to put her life back together after murdering her tormenter, Kilgrave. Now known throughout the city as a super-powered killer, a new case makes her reluctantly confront who she really is while digging deeper into her past to explore the reasons why.
Jessica Jones also stars Rachael Taylor, Carrie-Anne Moss, and Eka Darville. Newcomers include Twilight's Leah Gibson as "Ingrid," and Tumbleweeds' Janet McTeer.
Jessica Jones season 2 will premiere on Netflix on March 8, 2018.