'Mission: Impossible - Fallout' Video Goes Behind The Scenes Of Tom Cruise's Insane Helicopter Stunt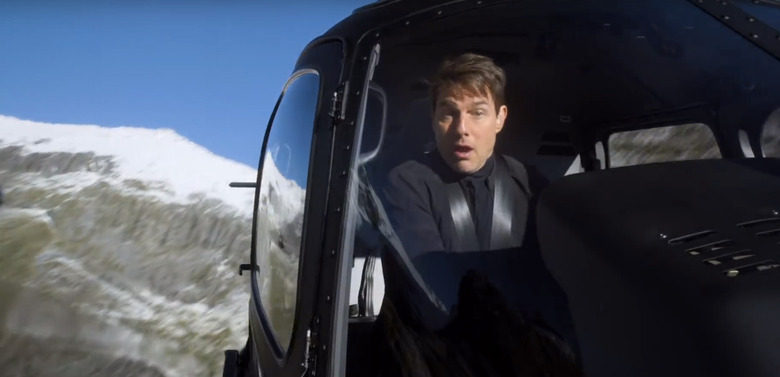 Tom Cruise is famous for pulling off some impressive stunts in many of his movies. But when it comes to the Mission: Impossible franchise, he pulls out all the stops. As a new Mission: Impossible – Fallout featurette illustrates, this latest adventure is no different.
A new Mission Impossible Fallout helicopter stunt video arrived today showing the lengths to which Tom Cruise has gone to make one particular action sequence in the action adventure sequel more believable. The 55-year old actor took the time to learn how to expertly fly a helicopter so he could be in the cockpit, all by himself, during a chase sequence through the mountains. The maneuvers he pulls off are unbelievable for someone who hasn't trained as long as a professional pilot.
Watch the Mission Impossible Fallout Helicopter Stunt Video
As director Christopher McQuarrie points out, not only does Tom Cruise have to pilot this helicopter, but he also has to act while he's doing that. And technically, he's also the camera operator, simply because the helicopters are attached to the outside of the chopper and are shooting everything inside the vehicle and around it.
Piloting a helicopter in the mountains is dangerous enough by itself, but what Cruise does in this helicopter is just insane. As one of the crew members explains, Cruise does a 360-degree downward spiral, as if he's going to crash.
The fact that he's doing all of this a short distance away from another pursuing helicopter during this action sequence makes it even more dangerous. As Cruise ages, how is he going to keep topping himself? Pretty soon, he's going to have to actually take a real bullet during one of these damn movies.
Here is the synopsis for Mission: Impossible – Fallout:
The best intentions often come back to haunt you.  MISSION: IMPOSSIBLE – FALLOUT finds Ethan Hunt (Tom Cruise) and his IMF team (Alec Baldwin, Simon Pegg, Ving Rhames) along with some familiar allies (Rebecca Ferguson, Michelle Monaghan) in a race against time after a mission gone wrong. Henry Cavill, Angela Bassett, and Vanessa Kirby also join the dynamic cast with filmmaker Christopher McQuarrie returning to the helm.
Mission: Impossible – Fallout is set to hit theaters on July 27, 2018.