New 'Solo: A Star Wars Story' Images Reveal New Characters And More Plot Details
After months of waiting around for the first Solo: A Star Wars Story trailer, it finally arrived this week. And now, the deluge has begun. A slew of new Solo images have arrived online, along with new details about the characters and plot points involved in this origin story. So buckle in. We're going to make the jump to lightspeed and run down what you need to know.
These new photos come to us via Entertainment Weekly (who are running a whole bunch of Solo-related stories this week). We have picked a few of them to highlight here, but make sure you hit that link if you want to check out a few more.
A Smuggler and His Wookiee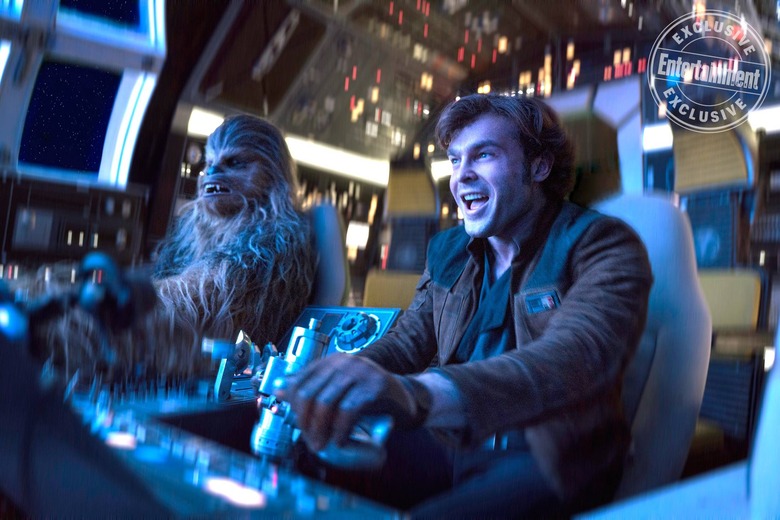 This first image finds the young Han Solo (Alden Ehrenreich) sitting in the familiar (albeit, shinier) cockpit of the Millennium Falcon alongside his best bud for life, Chewbacca (Joonas Suotamo). But since this is an origin story exploring who Han was in the years before he met Luke Skywalker in that Mos Eisley cantina, we're going to learn how this dynamic duo came together. Says screenwriter Lawrence Kasdan:
To me, this is a love story between Han and Chewie. Their relationship has always been my favorite part of the saga, and the fact that only Han understands what Chewie is saying, I find a very funny possibility for comedy.
In the original Star Wars canon, Han rescues Chewie from the Empire and the mighty Wookiee swears him a "life debt." It's not clear if the new movie will stick to this exactly, but it's a perfect meet-cute for this odd couple.
However, the Han we meet in Solo isn't quite the Han we meet in the original trilogy. As Ehrenreich explains:
I think the main thing that's different is that the Han we meet in this film is more of an idealist. He has certain dreams that he follows, and we watch how it affects him as those dreams meet new realities — realities that are harder and more challenging than he'd expected.
So Solo is the story of a young man with dreams learning that the galaxy is a rough place. In other words, we're going to see exactly how a skilled and enthusiastic pilot ends up being capable of shooting Greedo in the face in a dark and nasty alien bar.
The Falcon and the Mentor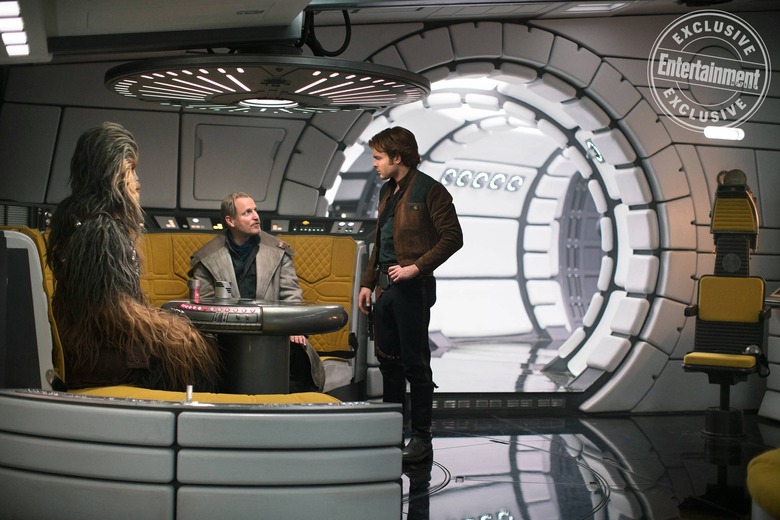 It wouldn't be a Han Solo origin story without the Millennium Falcon...and it certainly looks like Han didn't exactly take care of his beloved ship. The rusty pile of junk looks shiny and brand new here and the exterior looks very different. So, how does the ship come to take on that iconic shape? Director Ron Howard says:
I wonder what that could be? You'll have to see. The Falcon is a character in the movie, without a doubt. That machine is a defining factor in Han's future. Every aspect of this movie moves, shifts, and transforms in very interesting and yet plausible ways.
And for the man sitting at the table with Chewie and Han? That's Tobias Beckett (Woody Harrelson), a criminal operator who asks Han to join his team for a train heist. The details of that heist remain under lock and key, but Howard did spill some details about Beckett himself:
He's a powerful criminal, but a free agent. Tobias Beckett really shapes Han more than anybody, as Han comes to believe that in a lawless time, he needs a moral code.
Beckett has been previously described as a "mentor" to Han. Whether he's a mentor who teaches him by being an ally or a mentor who teaches him by betraying him (the hardest lesson!) is something we will have to find out later.
The Femme Fatale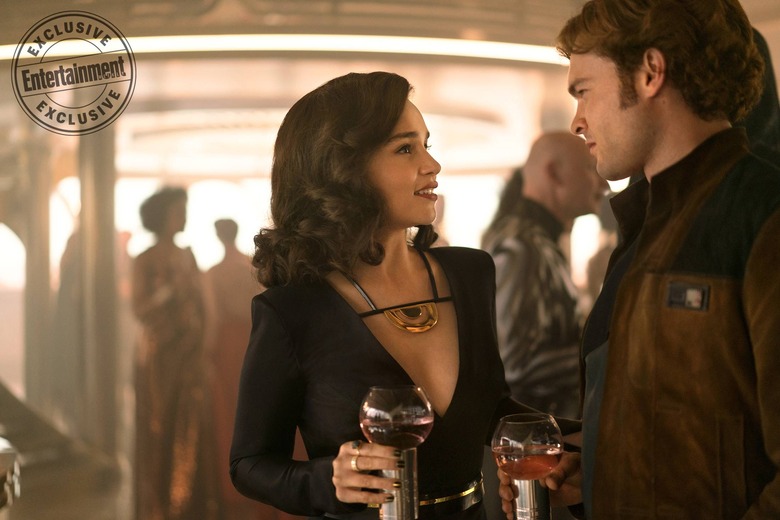 Every crime story needs a femme fatale and Emilia Clarke's Qi'ra looks to fill that position in Solo. The Game of Thrones star may be dressed in fancy clothes and carrying herself like one of the galaxy's more privileged citizens, but that wasn't always the case. Qi'ra grew up with Han on the mean streets. Her appearance masks someone just as tough and ruthless as him.
Clarke says she's hiding her real self behind that prestigious guise:
She has a couple of guises, but essentially she is just fighting to stay alive. If you've got a really glamorous lady in a really sordid environment, you kind of know the glamor is hiding a few rough roads.
Like with Tobias Beckett, one must wonder if Qi'ra will make an impact on Han by remaining an ally or finding profit in betraying him. After all, something or someone has to push him over the line into full-on cynic territory.
The Smooth Gambler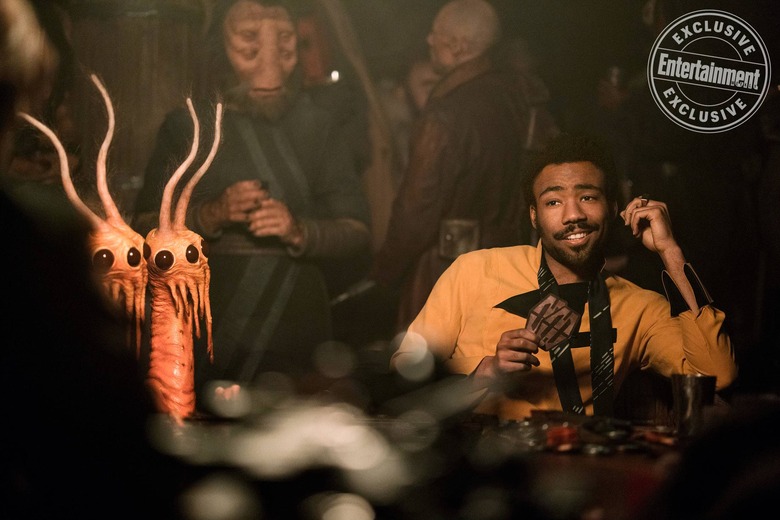 We still haven't heard Donald Glover speak as the young Lando Calrissian and he's already stolen our hearts. Let's face it: half of it is the fashion. No one in the galaxy dresses better than Lando.
We know from the original trilogy that Lando is a smooth-talking gambler who knows how to maneuver out of sticky situations. Here, we find him playing a game of cards with alien (another fantastic practical effect). And yes, Glover says it's the card game you think it is: "Yeah, we are playing a game of sabacc. A lot of it, you know?"
As some Star Wars fans may remember, the Millennium Falcon used to be Lando's ship, but he lost it to Han Solo...in a game of sabacc. So, will we be seeing that in the movie? "We are getting a taste of that. How good is Lando? How good is Han?" says Glover.
In other words: assuredly.
***
For more images, including a look at the swamp planet of Mimban and a few morsels about Lando's droid L3-37, head on over to EW. Solo: A Star Wars Story hits theaters on May 25, 2018.