'Everything Sucks!' Trailer: Netflix Goes Back To A Time When High School Was Not Da Bomb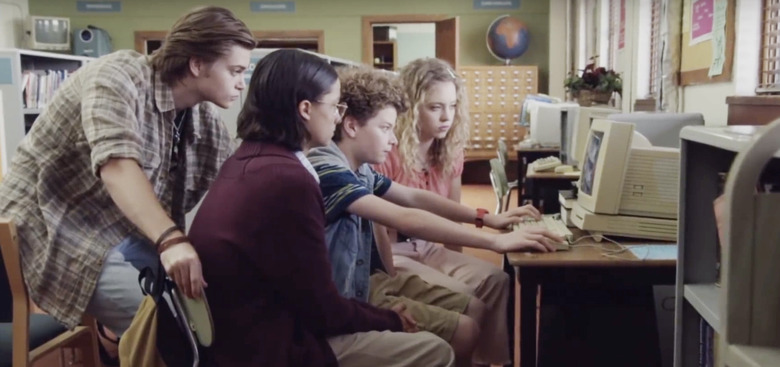 Back in the 1990s, the internet was dial-up, which was not all that and a bag of potato chips. It was a different time, but one thing that hasn't changed is that high school sucks, and a new series on Netflix will take us back there.
Everything Sucks! is a new dramedy series taking us back to 1996 in the town of Boring, Oregon. The series follows Peyton Kennedy (American Fable) and Jahi Winston (The New Edition Story) as students Kate Messner and Luke O'Neil as they deal with all the trials and tribulations that high school in the 1990s had to offer. Meanwhile, their respective parents played by Patch Darragh (Sully) and Claudine Nako (Grimm) are dealing with struggles of their own. The new Everything Sucks trailer makes the show look a little cheesy, but in the way that some of the best teenage dramas were back in the 1990s.
Everything Sucks Trailer
This series wouldn't feel out of place in the primetime line-up on The WB back when Dawson's Creek and Felicity were all the rage. It has just the right amount of romance, teen angst and comedy to feel like a great indie coming of age movie, but it also has a bit of melodrama and sweetness to give it that 1990s flair. It's making a me a bit nostalgic for the time in my life when I thought I knew everything, but actually knew nothing (which probably hasn't changed).
At the same time, the series feels completely accessible to today's teenage audiences who didn't grow up in the 1990s and have no idea what dial-up internet is or what life was like without cell phones. It doesn't seem to hinge on nostalgia, despite being set over 20 years ago.
The cast is rounded out by Rio Mangini as McQuaid, Quinn Liebling as Tyler, Sydney Sweeney as Emaline, and Elijah Stevenson as Oliver. The series was created by Like Crazy writer Ben York Jones and Save the Date director Michael Mohan, and both serve as executive producers on the series.
The 90s high school experience: Desperate, heartfelt, awkward, exciting, and free of smartphones. Set in the real life town of Boring, Oregon in 1996, Everything Sucks! is a quirky, funny coming of age story that revolves around Boring High School's A/V Club and Drama Club— two crews of nerdy-edgy outsiders, who join forces to make a movie and endure the purgatory known as high school.
Everything Sucks! hits Netflix on February 16, 2018.