'Black Panther' Review Round-Up: A Relevant, Richly Realized Marvel Masterpiece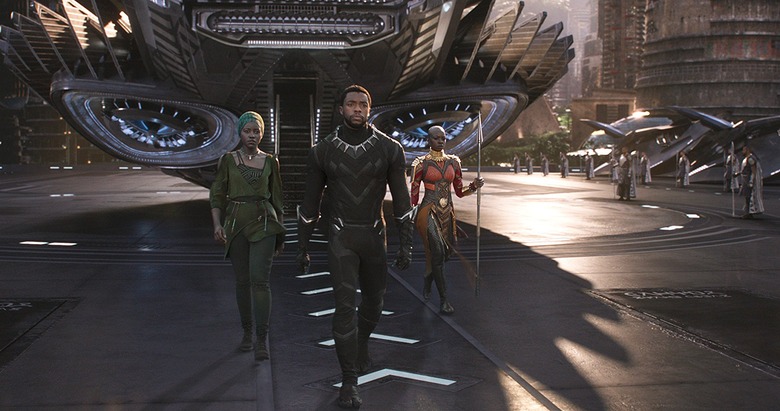 The embargo for Black Panther reviews is up, and the praise is nearly universal for Marvel Studios' latest film. Ryan Coogler's ambitious, expansive film with a majority-black cast is promising to be a cultural phenomenon, with early tracking suggesting Black Panther could break box office records. Anticipation is high for the comic book movie starring Chadwick Boseman as the titular hero, which has already outsold all other superhero movies in pre-sale tickets, and accumulated even more buzz with rapturous social media reactions to early screenings. Could the movie possibly live up to the hype and set the standard for more diverse blockbusters to follow?
Below, see what critics thought in our Black Panther reviews round-up.
Black Panther Reviews Round-Up
Black Nerd Girls' Jamie Broadnax called Black Panther the "greatest film Marvel Studios ever made" and a veritable masterpiece:
The plot for Black Panther plays out in several different directions and there are a lot of moving parts. I liked how Coogler and the team seamlessly took various parts of T'Challa's timeline and wove them all together in this feature film. It was risky because, in most cases, this can cause a film to become confusing and end up all over the place. However, Black Panther carefully places its puzzle pieces to fit nicely around each of the subplots and storylines.
The Rolling Stone's Peter Travers doubled down on that "masterpiece" praise, gushing over Black Panther's "history-making" and "rousing Afrofuturistic adventure":
Black Panther is an epic that doesn't walk, talk or kick ass like any other Marvel movie – an exhilarating triumph on every level from writing, directing, acting, production design, costumes, music, special effects to you name it. For children (and adults) of color who have longed forever to see a superhero who looks like them, Marvel's first black-superhero film is an answered prayer, a landmark adventure and a new film classic.
Mashable critic Angie Han raves about the film's rich visual texture, which "builds a world you'll want to return to again and again":
Black Panther perfects what the Marvel Cinematic Universe has always done so well: build a world so richly rendered, it's almost a letdown to reach the end of the film and realize it's time to return to our own reality.
Indiewire's David Ehrlich called Black Panther the "best Marvel movie so far," praising the magnetic villain played by Creed's Michael B. Jordan in a "swaggering" performance:
"Black Panther" is different. It's the first one of these films that flows with a genuine sense of culture and identity, memory and musicality. It's the first one of these films that doesn't merely reckon with power and subjugation in the abstract, but also gives those ideas actual weight by grafting them onto specific bodies and confronting the historical ways in which they've shaped ouruniverse. Last, but certainly not least, it's also the first black superhero movie since the dawn of the genre's seemingly endless golden age (or at least since that one where Will Smith hurled a giant whale at a bunch of innocent sailers).
Variety critic Peter Debruge agreed that Black Panther "feels unlike the other Avengers one-offs, featuring a superhero with purpose":
Co-written and directed by Ryan Coogler, "Black Panther" is a radically different kind of comic-book movie, one with a proud Afrocentric twist, featuring a nearly all-black cast, that largely ignores the United States and focuses instead on the fictional nation of Wakanda — and guess what: Virtually everything that distinguishes "Black Panther" from past Marvel pics works to this standalone entry's advantage.
The Hollywood Reporter's Todd McCarthy praised Coogler's "real and sustained sense of jeopardy" that he brings in his directing style, grounding what could be a fantastical superhero movie:
Just as he staged the boxing in Creed with intensity and invention, Jordan handles the more extensive face-off stuff here with freshness and brio, building to a tensely stirring climax. For such an action-packed modern film, it's surprising how little blood figures into this combat epic. A brief return to Oakland at the end brings things full circle, while the usual Marvel post-credits teaser reminds us that its next offering will be Avengers: Infinity War, coming May 4 and in which T'Challa/Black Panther also appears.
USA Today's Brian Truitt joined in on the praise, singling out the supporting cast, each of whom have such strong arcs that they can easily have their own-spin-off movies:
But this superb cast doesn't have a weak link. Winston Duke is awesome in a supporting role as T'Challa's rival, M'Baku; Angela Bassett is resplendent as Wakandan queen mother Ramonda; and Sterling K. Brown gives a heartfelt performance as N'Jobu, who has ties to Wakanda's complicated past.
For Polygon, Joelle Monique doubled down on the effusive praise of the diverse, talented cast, calling Wright's Shuri "a revelation" who "steals every scene with her bright smile and perfect comedic timing.":
Black Panther is the best Marvel film thus far. Aside from the incredible representation and the gorgeous visuals, the story is terrific. I have never cared for a villain the way I care for Michael B. Jordan's Erik Killmonger. Standing with feet shoulder width apart, he always has his hands clasped in front of him, and he never looks at anyone straight on unless he intends to end them. Killmonger is as attractive as he is intimidating. But Jordan wasn't hired for just his sex appeal. That sharp eye and wounded heart shine through a tough exterior to illuminate a real human being. He is the crown jewel of an incredibly wealthy project.
Black Panther wasn't without its criticisms, with reviewers like Entertainment Weekly's Leah Greenblatt pointing out that battle scenes often drag and that the abundant use of CG can be too obvious. But those were minor complaints Greenblatt had with the film:
Coogler's filmmaking isn't flawless. The CG backdrops veer into screensaver territory, and the battle scenes are often shot in turbulent closeup; the last 30 minutes are so frenetic it feels like there are defibrillator pads sewn into the theater seats. But he infuses nearly every frame with soul and style, and makes the radical case that a comic-book movie can actually have something meaningful — beyond boom or kapow or America — to say. In that context, Panther's nuanced celebration of pride and identity and personal responsibility doesn't just feel like a fresh direction for the genre, it's the movie's own true superpower.
Marc Bernardin with Nerdist said the superhero movie "took his breath away," but gets one crucial thing wrong:
The film does deal head-on with issues of race, subjugation, and oppression in ways both heartbreaking and hilarious. The final coda is as direct an address to the xenophobia at home in our current administration as that which you'll find in any film this year, let alone a giant Marvel movie. As a nerd and as a black man, I've been waiting for this movie for my entire life, whether I knew it or not. The fact that Black Panther gets so much right, but one crucial thing wrong, is both thrilling and maddening.
What it is. And what it means.
New York Times' Manohla Dargis praised the film's "great flair and feeling" with which the movie builds its politics and mythology:
Race matters in "Black Panther" and it matters deeply, not in terms of Manichaean good guys and bad but as a means to explore larger human concerns about the past, the present and the uses and abuses of power. That alone makes it more thoughtful about how the world works than a lot of mainstream movies, even if those ideas are interspersed with plenty of comic-book posturing. It wouldn't be a Marvel production without manly skirmishes and digital avatars. Yet in its emphasis on black imagination, creation and liberation, the movie becomes an emblem of a past that was denied and a future that feels very present. And in doing so opens up its world, and yours, beautifully.
***
Black Panther is not without its flaws — its overabundant use of CG and the frenetic battle scenes are noted as common pitfalls of any Marvel movie — but it soars above and beyond its Marvel Studios counterparts thanks to a richly realized world and overwhelmingly talented and diverse cast. And it's an important film, never shying away from the tumultuous politics from which it takes inspiration. The rapturous praise is universal — the film already boasts a 100% on Rotten Tomatoes with 45 reviews logged. Could Black Panther maintain its momentum as the best-reviewed Marvel movie ever? Time will tell. You can see Black Panther in theaters on February 16, 2018.