Deadpool Is Feeling Himself In A Flashy New 'Deadpool 2' Poster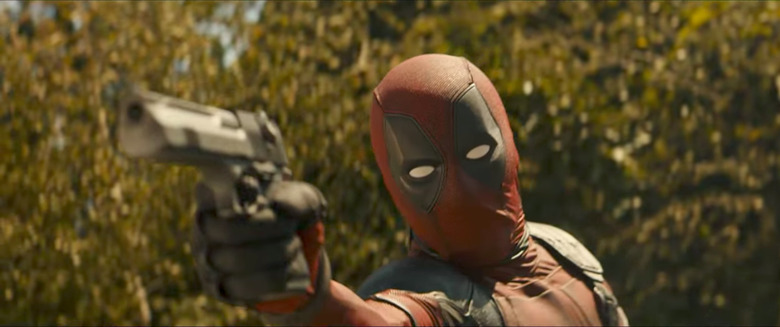 Deadpool is feeling himself in the latest one-sheet for Deadpool 2 (no, not like that, you perverts). And what a feeling it is! Check out the new Deadpool 2 poster below.
The new poster tweeted out by Deadpool star Ryan Reynolds is a fun tribute to the 1983 film Flashdance, which starred Jennifer Beals as a welder who dreams of becoming a ballet dancer. The movie itself is fine, but has become a permanent pop culture fixture thanks to its famous dance sequences. One of them features Beals dousing herself with water on a chair in one of her exotic dance routines. The second is Beals' character's audition for ballet school, where she dances to Cara's iconic '80s song "Flashdance... What a Feeling."
Take your passion. And make it happen. #Deadpool pic.twitter.com/7MY7z7x6pj

— Ryan Reynolds (@VancityReynolds) February 6, 2018
In the poster, captioned "Take your passion. And make it happen," the Merc with a Mouth re-enacts the famous pose at the end of the exotic dance, but with bullets raining down on him instead of water. The poster has little to do with the actual plot of Deadpool 2 (unless it's hinting at a miraculous Wade Wilson dance scene), but it's perfectly in line with the film's irreverent marketing. After all, the first trailer tease came after Deadpool did a wacky imitation of the cheery public TV painter Bob Ross for a full two minutes. Prior posters have been cheeky parodies of familiar American images — the first Deadpool 2 poster paid homage to Norman Rockwell's "Freedom From Want" painting.
It's on brand for a franchise that advertised the first 2016 Deadpool film with a series of poop emoji billboards.
Here is Deadpool 2's appropriately tongue-in-cheek synopsis:
After surviving a near fatal bovine attack, a disfigured cafeteria chef (Wade Wilson) struggles to fulfill his dream of becoming Mayberry's hottest bartender while also learning to cope with his lost sense of taste. Searching to regain his spice for life, as well as a flux capacitor, Wade must battle ninjas, the yakuza, and a pack of sexually aggressive canines, as he journeys around the world to discover the importance of family, friendship, and flavor – finding a new taste for adventure and earning the coveted coffee mug title of World's Best Lover.
Deadpool 2 is directed by John Wick co-director and Atomic Blonde director David Leitch after Deadpool director Tim Miller departed over creative differences. Reynolds, Morena Baccarin, T.J. Miller, Leslie Uggams, and Brianna Hildebrand reprise their roles from the first movie, while Zazie Beetz and Josh Brolin join the cast as fan-favorite comic characters Domino and Cable.
Deadpool 2 hits theaters on May 18, 2018.