'Shazam' Synopsis Revealed As Film Begins Production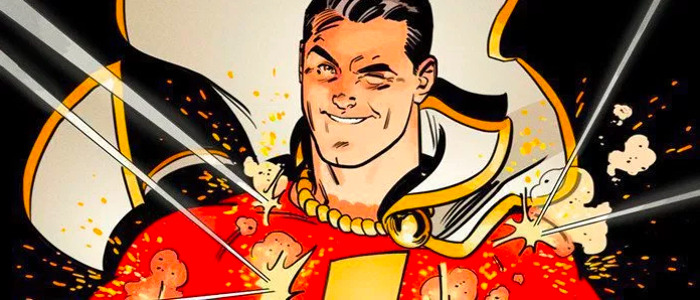 Shazam!, the newest entry in the ever-changing DCEU, has begun production, and with it comes an official synopsis. Director David F. Sandberg helms the film which focuses on a young boy who is suddenly blessed with super powers. Read the full Shazam synopsis below.
Production has officially begun on Shazam!, a new DCEU film that will bring the superhero formerly known as Captain Marvel (before Marvel's Captain Marvel took that tile for good) to the big screen. Asher Angel stars as seemingly ordinary kid Billy Batson. Billy's ordinary life is turned upside when he suddenly finds himself blessed with super powers thanks to a wizard. These powers enable Billy to transform into the adult superhero Shazam, played by Chucki star Zachary Levi. Now that production is under way, an official Shazam synopsis has been released. Check it out:
We all have a superhero inside us, it just takes a bit of magic to bring it out. In Billy Batson's (Angel) case, by shouting out one word—SHAZAM!—this streetwise 14-year-old foster kid can turn into the adult Super Hero Shazam (Levi), courtesy of an ancient wizard. Still a kid at heart—inside a ripped, godlike body—Shazam revels in this adult version of himself by doing what any teen would do with superpowers: have fun with them! Can he fly? Does he have X-ray vision? Can he shoot lightning out of his hands? Can he skip his social studies test? Shazam sets out to test the limits of his abilities with the joyful recklessness of a child. But he'll need to master these powers quickly in order to fight the deadly forces of evil controlled by Dr. Thaddeus Sivana.
Meet the Shazam Cast
Shazam! also features professional movie villain Mark Strong as Dr. Thaddeus Sivana. The rest of the cast includes Jack Dylan Grazer (IT) as "Billy's best friend and ultimate superhero enthusiast, Freddy, part of the foster family that includes Mary, played by Grace Fulton (Annabelle: Creation); Darla, played by Faithe Herman (This is Us); Eugene, played by Ian Chen (Fresh Off the Boat); and Pedro, played by Jovan Armand (Hawaii Five-O). " Cooper Andrews (The Walking Dead) and Marta Milans (Killer Women) play foster parents Victor and Rosa Vasquez, with Ron Cephas Jones (This is Us) as the Wizard.
Annabelle: Creation director David F. Sandberg is helming the film. Sandberg also revealed some more details about the project, and the character of Billy Batson, to the Toronto Sun:
 "The big attraction for me with that character is the fact that every kid dreams of being Superman, right? I mean I certainly did, and (Billy Batson) is a kid that gets that chance," Sandberg tells the Sun. "He gets to become the superhero. So it'll be big with superpowers in a way. In terms of what people can expect, I think this will be one of the more fun or lighthearted movies so far in the DC universe. It certainly will be a departure."
Dwayne "The Rock" Johnson will serve as one of the film's executive producers. Speaking of the Rock, he's currently helping develop Black Adam, a film about one of Shazam's main villains.