'The Cloverfield Paradox' Trailer: 'Cloverfield 3' Is Available On Netflix Right Now [Updated]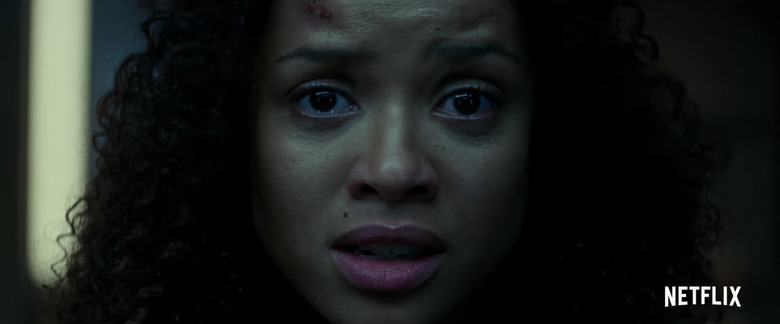 Update: A second trailer for The Cloverfield Paradox has arrived online, boasting that the surprise sequel is currently available to stream on Netflix. Watch the new trailer below. Our original article continues.
After rumors and delays, the trailer for The Cloverfield Paradox, the new Cloverfield sequel, is here. A Super Bowl trailer for the film just arrived to give us a fresh glimpse into J.J. Abrams' latest top secret mystery box project. The film, originally titled God Particle, comes from director Julius Onah. Watch the The Cloverfield Paradox trailer below.
Finally, here's some proof of the new Cloverfield movie! This long-gestating project, which was originally known as God Particle, was due out on February 24, 2017. Reshoots supervised by producer JJ Abrams moved the release to October 17, 2017. Then the date moved yet again, to February 2, 2018. Then, the date got pushed for good measure one more time, with a projected release date of April 20, 2018. But things changed again, and Netflix got involved. Now the film will debut on Netflix, and that's not all: it will debut tonight after the game. Watch the The Cloverfield Paradox trailer below.
The Cloverfield Paradox Trailer
The Cloverfield Paradox Second Super Bowl TV Spot
First and foremost, it must be said: it's crazy that Netflix is dropping this tonight (watch this spot)! Second: it seems that, unlike 10 Cloverfield Lane, The Cloverfield Paradox is going to be directly tied to the first Cloverfield. That's a neat touch.
The film, which boasts a phenomenal cast that includes Daniel Brühl, Elizabeth Debicki, Aksel Hennie, Gugu Mbatha-Raw, Chris O'Dowd, John Ortiz, David Oyelowo and Zhang Ziyi, marks the feature directorial debut of Julius Onah. The original plot, back when the movie was known as God Particle, focused on a team of astronauts aboard an international space station who find themselves alone after a scientific experiment involving a particle accelerator makes the entire Earth vanish. Here's the new, official synopsis:
In the near future, a group of international astronauts on a space station are working to solve a massive energy crisis on Earth. The experimental technology aboard the station has an unexpected result, leaving the team isolated and fighting for their survival.
The Cloverfield franchise is a strange beast. The original film was shrouded in secrecy, and after it was released in 2008, producer J.J. Abrams teased a possible sequel. The sequel never materialized, and many thought it was dead for good. Then, a surprise trailer for a film called 10 Cloverfield Lane arrived in January 2016. The film wasn't quite an official Cloverfield sequel, but bore the Cloverfield brand name – making Cloverfield a kind of anthology film series. Much like 10 Cloverfield Lane, The Cloverfield Paradox was not originally conceived as a Cloverfield film. In fact, Oren Uziel, the film's screenwriter, confirmed to Collider that the script was actually written before 10 Cloverfield Lane, saying:
"It was written before 10 Cloverfield Lane and the expanded Cloverfield universe even existed as a thing. It was a spec that I wrote probably a year or so after Shimmer Lake, so it definitely existed as its own science-fiction. And then after years of, you know how scripts kind of hang around—people like them but for whatever reason they decided to make it and then suddenly everything fell into place with J.J. [Abrams], Bad Robot, and Paramount. I don't know exactly when it became a Cloverfield movie, but I suspect in this current market where it's just harder and harder to market an original movie of any kind, a science-fiction movie in particular, but I think everyone just knew if it fits—and it does—into that Cloverfield world, it should, and it can only help."
After The Cloverfield Paradox, Abrams and company already have the next potential Cloverfield film already lined up: Overlord (which will probably end up being retitled Cloverlord if we're lucky), a film set "on the eve of D-Day, where American paratroopers are dropped behind enemy lines to carry out a mission crucial to the invasion's success. But as they approach their target, they begin to realize there is more going on in this Nazi-occupied village than a simple military operation. They find themselves fighting against supernatural forces, part of a Nazi experiment."