'Mission: Impossible - Fallout' Trailer: The Past Comes Back To Haunt Ethan Hunt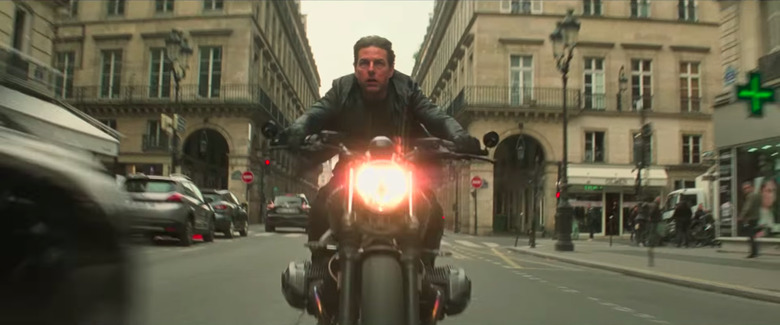 The Impossible Mission Force is back for another round of action, but this time they have to deal with the consequences of a mission gone wrong in Mission: Impossible – Fallout.
Tom Cruise is back as Ethan Hunt, and his team has come along with him. Rebecca Ferguson returns after being introduced in Mission: Impossible – Rogue Nation and the reliable Ving Rhames and Simon Pegg are back too. Plus, Alec Baldwin is working with the team now after initially trying to stop their reckless activities in the last sequel. Now we finally get to see what the team is up against in the sixth installment of the franchise that has been going since 1996.
Watch the Mission Impossible Fallout Trailer
It's clear that Tom Cruise is pushing himself to the limits with the stunt work on this sequel. We already know that one of the stunts he performed resulted in an injury that broke his ankle and delayed production for a short time, but it looks like his pain will be worth it in the end.
Along with the action and intrigue, it's interesting to see that Michelle Monaghan is being brought back for this sequel. The last time we saw Monaghan as Ethan Hunt's love interest Julia, it was a quick moment at the end of Ghost Protocol to confirm that she was still alive after Ethan revealed her death was faked. It remains to be seen how big her role will be in this next adventure.
Henry Cavill also joins the cast this time, with the infamous mustache that created some technical problems for post-production on Justice League. Hopefully the mustache will be worth the grief it caused DC fans. Joining him as new cast members are Angela Bassett and Vanessa Kirby.
Here is the synopsis for Mission: Impossible – Fallout, directed by Christopher McQuarrie:
The best intentions often come back to haunt you.  MISSION: IMPOSSIBLE – FALLOUT finds Ethan Hunt (Tom Cruise) and his IMF team (Alec Baldwin, Simon Pegg, Ving Rhames) along with some familiar allies (Rebecca Ferguson, Michelle Monaghan) in a race against time after a mission gone wrong. Henry Cavill, Angela Bassett, and Vanessa Kirby also join the dynamic cast with filmmaker Christopher McQuarrie returning to the helm.
Mission: Impossible – Fallout is set to hit theaters on July 27, 2018.