'Red Sparrow' Super Bowl TV Spot: Jennifer Lawrence Faces A Life Or Death Choice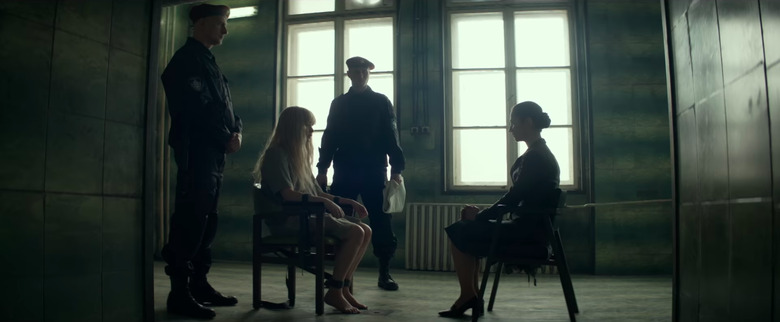 Red Sparrow has launched a buzzy marketing campaign for the Jennifer Lawrence spy thriller, following up its moody trailers with action-packed clips and TV spots. The most action-packed yet is the new spot that 20th Century Fox just debuted at the Super Bowl.
Red Sparrow Super Bowl TV Spot
The past few trailers operated like tone poems, with Lawrence's Dominika Egorova barely breaking out her shaky Russian accent, but the TV spots have leaned more into bombast. The Super Bowl spot certainly leans toward the latter, and it makes sense since commercials can cost up to $5 million each during this event.
The tense, rapid spot delves into Dominika's reason for entering the Sparrow program: "I saw something I was not supposed to." Horrified and faced with a life-or-death choice, Dominika decides to enter the brutal training program, eventually becoming the best Sparrow that the agency has ever produced.
Based on the novel of the same name by former CIA operative Jason Matthews, Red Sparrow follows ballerina Dominika Egorova as she is forced to undergo a brutal training regime to become a Sparrow – a Russian intelligence agent with a set of highly specialized skills involving the art of seduction. But her loyalties are tested when she's assigned to target CIA agent Nathaniel Nash, an American mole in Russia, who persuades her to become a double agent.
Red Sparrow also stars Matthias Schoenaerts, Charlotte Rampling, Mary-Louise Parker, Joely Richardson, and Jeremy Irons.
Here is the official synopsis for Red Sparrow:
Prima ballerina Dominika Egorova faces a bleak and uncertain future after she suffers an injury that ends her career. She soon turns to Sparrow School, a secret intelligence service that trains exceptional young people to use their minds and bodies as weapons. Egorova emerges as the most dangerous Sparrow after completing the sadistic training process. As she comes to terms with her new abilities, Dominika meets a CIA agent who tries to convince her that he is the only person she can trust.
Red Sparrow is set to open in theaters on March 2, 2018.