'Jack Ryan' Super Bowl Trailer: John Krasinski, Action Hero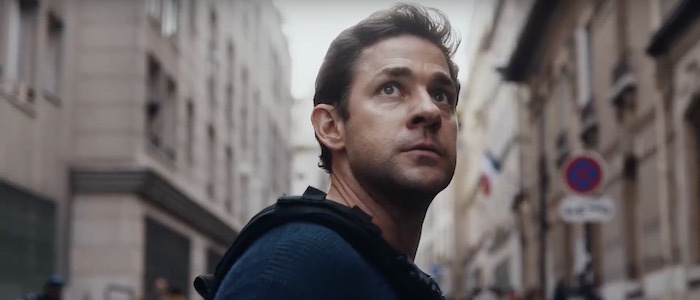 John Krasinski's ongoing quest to become an action hero continues with the new Amazon series Tom Clancy's Jack Ryan. Adapted from the numerous Tom Clancy books your grandfather reads, Jack Ryan stars Krasinski as a CIA analyst who always ends up in gunfights. A new Jack Ryan Super Bowl trailer shows off the action-packed new series.
Tom Clancy's Jack Ryan character has seemingly had more reboots than any franchise in history. Alec Baldwin first played the character in The Hunt For Red October. Then Harrison Ford took over for Patriot Games and Clear and Present Danger. After Ford exited, Ben Affleck gave it a go with The Sum of All Fears. Then the series got yet another reboot with Chris Pine playing the character in Jack Ryan: Shadow Recruit. Now Jack Ryan is back, again, in a new Amazon series starring The Office's John Krasinski. Watch the new Jack Ryan Super Bowl trailer, which looks very expensive and very explosion-filled.
Jack Ryan Super Bowl Trailer 
Clearly, Amazon is hoping for big things with this series, as this is their first Super Bowl trailer in history. Krasinski, meanwhile, has tried several times in the past to break out of his "Jim from The Office" typecasting: he was originally considered to play Captain America before Chris Evans got the job, and then he got muscled-up for the Michael Bay movie 13 Hours: The Secret Soldiers of Benghazi. Now he's going to give Jack Ryan a go, and this new Tom Clancy's Jack Ryan series looks pretty action-packed. Of course, the previous Jack Ryan movies amped up the action as well (Clancy's books aren't nearly as action-driven, and are actually kind of boring). Will this new Jack Ryan series succeed where the previous films have not? We'll see. This trailer certainly looks exciting enough, but I don't really know if "Jack Ryan" is a brand name that people care about anymore.
In addition to Krasinski, Tom Clancy's Jack Ryan stars Abbie Cornish, Mena Massoud, Timothy Hutton, Peter Fonda, and Wendell Pierce. The series was created by Lost's Carlton Cuse and Graham Roland, and has a laundry list of executive producers that includes Krasinski, Cuse, Roland, Michael Bay, Mace Neufeld, Brad Fuller, Andrew Form, David Ellison, Dana Goldberg, Marcy Ross, and Lindsey Springer.
Tom Clancy's Jack Ryan premieres on Amazon Prime on August 31, 2018.
When CIA analyst Jack Ryan stumbles upon a suspicious series of bank transfers his search for answers pulls him from the safety of his desk job and catapults him into a deadly game of cat and mouse throughout Europe and the Middle East, with a rising terrorist figurehead preparing for a massive attack against the US and her allies.