Guardians Of The Galaxy, The Incredibles, And More Heading To Disney World This Summer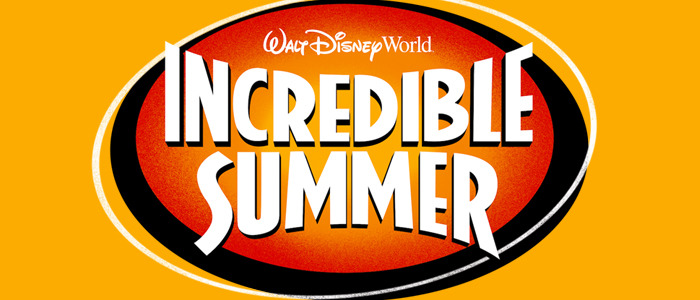 When it comes to corporate synergy, it's hard to beat The Walt Disney Company. The media giant is a king of cross-promotion among its ever-growing number of properties, and while that in and of itself isn't something we'd normally care about, it just so happens that this latest piece of synergy involves properties that fans are deeply invested in.
If you're in or around Orlando, Florida this summer and are planning a trip to Walt Disney World, you're in luck: the Incredibles, the Guardians of the Galaxy, and more will be coming to that park in new ways later this year. Read about the Disney World summer plans below, including the opening of Toy Story Land.
The Disney Parks blog has announced that "new attractions, entertainment, experiences and more" will be coming to all four parks at the Walt Disney World resort this summer, in an event they're calling "Incredible Summer." And as the font in the logo above indicates, part of the reasoning behind that name is due to the fact that Pixar is releasing the highly-anticipated Incredibles 2 this June. But it's not just the super-powered family who's coming to Disney World – a couple members of Marvel's Guardians of the Galaxy are on the way as well. Here's what you need to know, courtesy of the official parks blog:
The Incredibles Take Over Tomorrowland at Magic Kingdom Park – Guests can party with Mr. Incredible, Elastigirl, and Frozone from Disney•Pixar's "The Incredibles" and the soon-to-be blockbuster "Incredibles 2." Edna Mode, the greatest superhero costume designer, will also make her debut appearance. Each evening, guests can enjoy a "SUPER" dance party on the Rocket Tower Stage.
The Guardians of the Galaxy Take the Stage at Epcot – Star-Lord and Gamora from "Guardians of the Galaxy" will join an alien band, taking guests on a journey through the cosmos. The party will feature hits from Awesome Mixtapes 1 and 2 – fun and favorite tunes from the two movies' soundtracks – building the anticipation for a new Epcot Guardians of the Galaxy attraction.
Toy Story Land Opens at Disney's Hollywood Studios – One major highlight of "Incredible Summer" will be the grand opening of Toy Story Land at Disney's Hollywood Studios. This new 11-acre land will shrink guests to the size of a toy and allow them go explore the fun and adventure of Andy's backyard. There, guests can experience two new attractions: the family coaster Slinky Dog Dash and Alien Swirling Saucers. Toy Story Land also will feature an existing guest-favorite attraction, Toy Story Mania!, which will expand to add a third track into the rotation. The land's Woody's Lunch Box will be a new quick-service restaurant that will offer up tasty meals and old-fashioned soda floats to Toy Story Land guests.
Additionally, Animal Kingdom will be celebrating its 20th anniversary by launching a new show called "Explorers Meet UP! A Great Bird Adventure," which – you guessed it – features characters from Pixar's Up. And one of the classic Disney characters is getting involved at Animal Kingdom as well: Donald Duck will take over Dinoland, U.S.A. for what they're calling a "dino-tastic" celebration.
You can find out more about all of these events, attractions, and more at the Disney Parks blog. In the meantime, I'll be over here cursing the fact that I won't get to visit Toy Story Land any time soon.
Incredibles 2 arrives in theaters on June 15, 2018.