Dwayne Johnson's 'Skyscraper' Poster Is Glorious And Utterly Ridiculous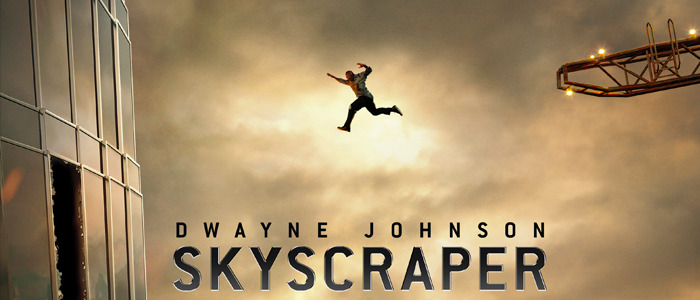 Why yes, that is Dwayne "The Rock" Johnson attempting to leap from a giant crane into a shattered open window of a huge building. And no, his new summer blockbuster Skyscraper is not set in the same universe as the Fast and Furious movies (that we know of). This is an entirely separate action film in which an outlandish decision like this is justified and rewarded, and I can't wait to see if the Super Bowl trailer that's coming this weekend lives up to the preposterous promise this poster holds.
Take a look at the full-size Skyscraper poster below, because it somehow gets even more ridiculous when you see the entire thing.
Feast your eyes on this: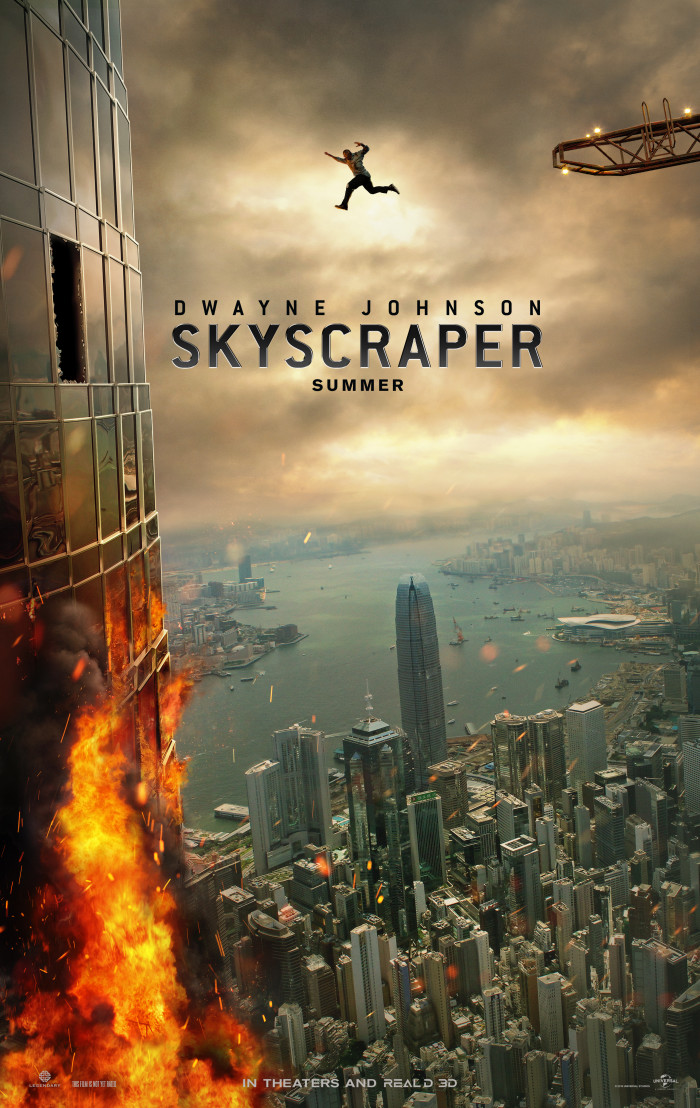 So not only is Johnson's character leaping from a crane into a shattered window of a skyscraper, but A) both structures are so tall that they make regular-sized buildings look like a child's play set in the background, and B) THE BUILDING IS ON FIRE AND HE'S STILL JUMPING INTO IT. Could we finally be looking at the rare non-Fast and Furious Dwayne Johnson movie that captures that franchise's balance of goofy and totally satisfying action? San Andreas, Baywatch, and Central Intelligence just don't have that indefinable "X" factor, but if this poster is a proper indication of what we can expect in this movie, we might have something special on our hands here.
Also, it's worth pointing out that just the other day, Mission: Impossible – Fallout released a photo of Tom Cruise flying through the air between buildings, and while that may technically be a bit more impressive because Cruise did the stunt himself (that's the one that went wrong and resulted in his broken ankle), Skyscraper seems to be roaring in and looking to eat Mission: Impossible's lunch with this stunt. Yes, this one is CG-enhanced, but in terms of upping the ante for moviegoers who may not care as much about what is real and what's aided by a computer, Skyscraper is certainly making a statement.
The film is written and directed by Rawson Marshall Thurber (Dodgeball, Central Intelligence), and stars Johnson, Neve Campbell, Chin Han, Noah Taylor, Roland Møller, Byron Mann, Pablo Schreiber, and Hannah Quinlivan.
Global icon Dwayne Johnson leads the cast of Legendary's Skyscraper as former FBI Hostage Rescue Team leader and U.S. war veteran Will Sawyer, who now assesses security for skyscrapers. On assignment in China he finds the tallest, safest building in the world suddenly ablaze, and he's been framed for it. A wanted man on the run, Will must find those responsible, clear his name and somehow rescue his family who is trapped inside the building...above the fire line.
Stay tuned for the first trailer that debuts at Super Bowl on Sunday. Skyscraper arrives in theaters on July 13, 2018.