Leonardo DiCaprio To Play Leonardo Da Vinci In Leonardo Da Vinci Movie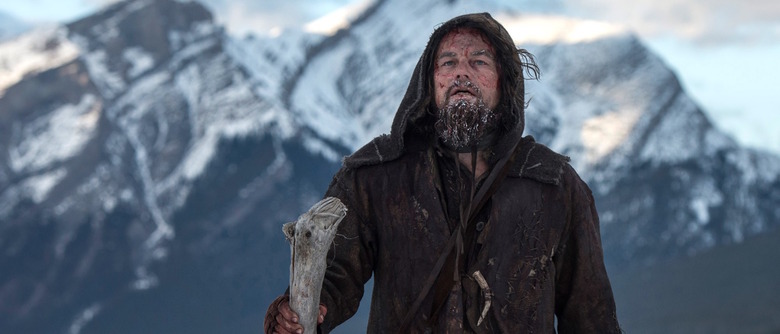 We may receive a commission on purchases made from links.
Leonardo DiCaprio is notoriously picky about which projects he tackles as an actor. He hasn't made a film since finally winning an Oscar for Best Actor in The Revenant, but he's on board Quentin Tarantino's developing movie about the Manson Family murders, which is supposed to be his next project. After that, it sounds like he'll tackle the story of the man who inspired his namesake.
Paramount Pictures has Leonardo DiCaprio lined up to star in an adaptation of Walter Isaacson's biography Leonardo da Vinci, about the painter behind the famous "Mona Lisa" and "Last Supper" works who was also known for being a budding inventor, a scholar of anatomy, botany, geology and much more. The studio has also hired a writer who has already worked with DiCaprio on a biographical feature before.
Deadline reports Paramount has hired John Logan (Skyfall, Hugo) to write the Leonardo da Vinci movie as a star vehicle for Leonardo DiCaprio, who previously starred in the Logan-penned Howard Hughes biopic The Aviator. The project has a special place in DiCaprio's heart because he was given his name because his mother was admiring a da Vinci painting in an Italian museum when she felt him kick for the first time.
Walter Isaacson, who also wrote the biography on which Aaron Sorkin based his Steve Jobs script, used da Vinci's notebooks to create a story that weaves through all of his experiences in art and science. Here's how the book is described on Amazon:
Based on thousands of pages from Leonardo's astonishing notebooks and new discoveries about his life and work, Walter Isaacson weaves a narrative that connects his art to his science. He shows how Leonardo's genius was based on skills we can improve in ourselves, such as passionate curiosity, careful observation, and an imagination so playful that it flirted with fantasy.
He produced the two most famous paintings in history, The Last Supper and the Mona Lisa. But in his own mind, he was just as much a man of science and technology. With a passion that sometimes became obsessive, he pursued innovative studies of anatomy, fossils, birds, the heart, flying machines, botany, geology, and weaponry. His ability to stand at the crossroads of the humanities and the sciences, made iconic by his drawing of Vitruvian Man, made him history's most creative genius.
Da Vinci's life is undoubtedly a colorful one, and it should make for a compelling story, especially with Leonardo DiCaprio in the lead. The actor hasn't played a character ingrained this far in the past since The Man in the Iron Mask from early in his career. He'll also be producing the film with Jennifer Davisson through their Appian Way production banner.
It's not clear when this Leonardo da Vinci movie might get off the ground, but Logan will be writing it while DiCaprio goes off to make Quentin Tarantino's next movie, so it could be his next project after that. There's also a Teddy Roosevelt film in the works that would reunite DiCaprio with Martin Scorsese, so we'll see what happens.