Netflix's 'A Series Of Unfortunate Events' Will End With Season 3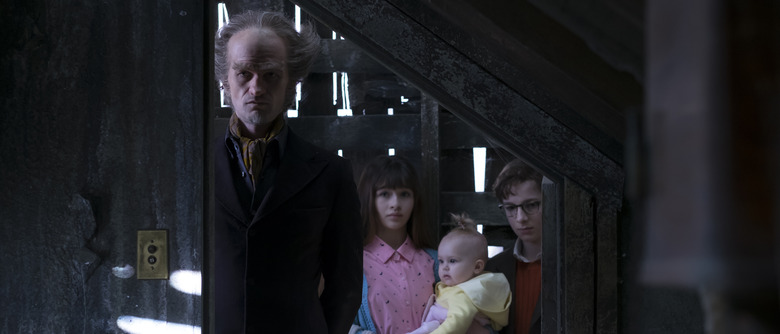 The sad tale of the Baudelaire children will finally reach its dreary end. Netflix's TV adaptation of Lemony Snicket's darkly comedic A Series of Unfortunate Events will be wrapping up its run after its third season, which will likely air sometime in 2019.
A Series of Unfortunate Events finally received the wry and whimsical adaptation it deserved with Mark Hudis and Barry Sonnenfeld's TV series adaptation of the popular children's book series, which first premiered on Netflix on January 13, 2017. But alas, like all good things, it must come to an end.Neil Patrick Harris, who plays the goofy but malevolent Count Olaf in the series, confirmed to TV Guide that the series' third season will be its last:
"We're three seasons all in. We've intentionally been very truthful and factual and loyal to the books. We've added a few characters that aren't in the books, we've added some songs that you probably couldn't put into the books, but for the most part we're sticking to the structure of what already worked."
The first season adapted the first four books of the series, while the upcoming second season is set to cover books five through nine. The third season will supposedly cover the remaining four books of the 13-book series, so this end date is in total agreement with the structure of the show so far.
The series is based off Daniel Handler's (writing as Lemony Snicket) best-selling series published between 1999 and 2006, which told an absurdist, Gothic-inspired tale of three orphans who keep facing a pattern of escalating tragedies. It was first adapted into a rather campy feature film starring Jim Carrey in 2004, which was met with modest commercial results, though it was criticized for leaning too heavily on comedy.
13 years later, the story was tackled again by Netflix, with the original film's executive producer, Barry Sonnenfeld, coming on board to develop the series. With its Twilight Zone-inspired narrator played by Patrick Warburton, a scene-stealing turn from Harris, its dark, dry humor, and surreal visuals, the series was an instant hit.
Here is the synopsis for A Series of Unfortunate Events:
This series follows the tragic tale of three orphans – Violet, Klaus, and Sunny Baudelaire – who are investigating their parents' mysterious death. The siblings are saddled with an evil guardian named Count Olaf (portrayed by award-winning actor Neil Patrick Harris), who will do whatever it takes to get his hands on the Baudelaire's inheritance. Violet, Klaus, and Sunny must outsmart Olaf at every turn, foiling devious plans and disguises. The series is based on the best-selling series of books by Lemony Snickey (aka Daniel Handler).
Malina Weissman, Louis Hynes, Presley Smith, Patrick Warburton, and K. Todd Freeman return for season two. New additions to the cast include Lucy Punch, Nathan Fillion, Tony Hale, Sara Rue, and Roger Bart.A Series of Unfortunate Events returns with a 10-episode second season on March 30, 2018.