'Disobedience' Trailer: Rachel McAdams And Rachel Weisz Share A Forbidden Love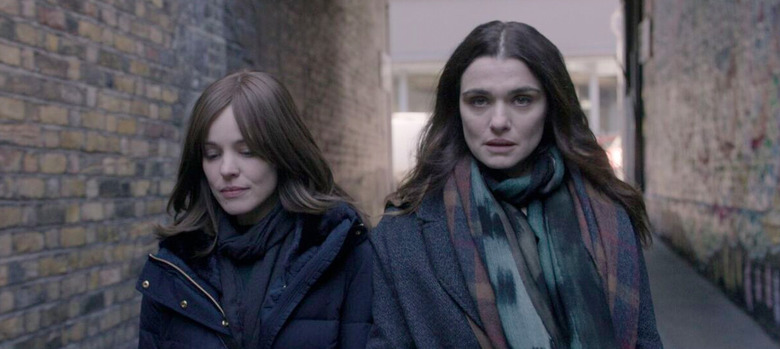 We may receive a commission on purchases made from links.
Rachel McAdams once put aside her love for Ryan Gosling in the sappy romance The Notebook for fear of upsetting her parents. Rachel Weisz also once partook in a secret relationship with Colin Farrell in The Lobster. Now, the two actresses face another forbidden love, but this time the relationship is condemned by the religion they were raised with.Disobedience follows Rachel Weisz as Ronit, the black sheep of an Orthodox Jewish family living in London. She's been spending her years in New York as a photographer, in stark contrast to the life she was meant to lead with her family. After her father (a revered rabbi in the community) dies, she returns home only to find her past waiting for her in a way that will stir up controversy in her family all over again.
Disobedience Trailer
When Ronit returns home, she finds that her childhood best friend Esti (McAdams) has married Dovid (Alessandro Nivola), who will be stepping up to fill the shoes of her father, and was largely considered to be the son he never had. It's clear that the community surrounding her family still has nothing but disdain for Ronit's abandonment of her family and their beliefs, and that only has the potential to get worse as Ronit starts spending more time with Esti.
The two were childhood friends, but they were also secret lovers in a community that forbids such relationships. But when they get back together, the spark of their love reignites, and they're soon embracing each other every moment they have alone together, throwing Esti's life into upheaval and turning Ronit into an outcast all over again.
Sebastian Lelio directs the adaptation of Naomi Alderman's book of the same name, and they also co-wrote the script together. The film has already played at the Toronto International Film Festival where The Hollywood Reporter's David Rooney wrote in his review, "Beautifully acted by Rachel Weisz, Rachel McAdams and Alessandro Nivola as the three points of a melancholy romantic triangle, this is a deeply felt drama that exerts a powerful grip."
Here's the official synopsis:
Happily single and living a rich life as a photographer in New York, Ronit (Rachel Weisz) is very much the black sheep of her London-based Orthodox Jewish family. When her revered rabbi father dies, Ronit returns home to pay her respects and liquidate her inheritance. But surprises await, chief among them the news that Dovid (Alessandro Nivola) — the heir apparent to Ronit's father and very much the son he never had — has married Ronit's childhood friend Esti (Rachel McAdams).
While Dovid prepares to take over the hallowed place at the synagogue, Ronit and Esti become reacquainted. An old flame is reignited — one that could torch everything this family most cherishes.
Disobedience arrives in theaters on April 27, 2018.