A Facebook Group Is Trying To Give 'Black Panther' Bad Rotten Tomatoes Reviews Because The Internet Is Awful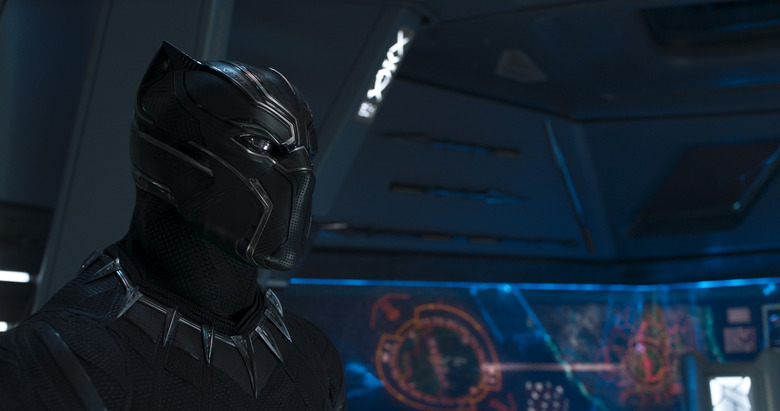 If you need more evidence that the internet can be a horrible place and that fandom toxicity has run amok, peek at the "movement" around Black Panther's Rotten Tomatoes score.
The Marvel film hasn't even been released in theaters yet, and already a Facebook group is planning to flood its Rotten Tomatoes page with negative reviews. The name of the Facebook group? "Down With Disney's Treatment of Franchises and its Fanboys."
The Facebook group recently created the event "Give Black Panther a Rotten Audience Score on Rotten Tomatoes," which drew 3,700 participants. The event encouraged participants to distribute spoilers targeting "Marvel fanboys" and asked DC fans to give their own negative reviews to the film. Inverse reportedly spoke to the leader of the group, who said the movement is to protest Disney's supposed efforts to "shove SJW messages down our throats," adding that "minorities ... should stay that way."
The event and Facebook group have both been shut down in the wake of the media attention they received yesterday, but a screenshot of the event page is below.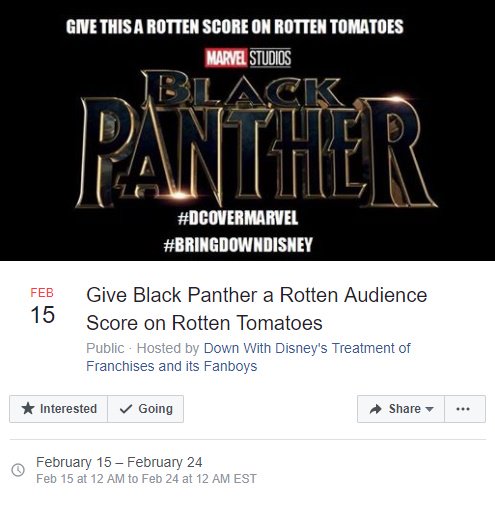 The group has received attention from Rotten Tomatoes, which denounced the group's efforts to hijack Black Panther's audience score. The company said in a statement Thursday:
"We at Rotten Tomatoes are proud to have become a platform for passionate fans to debate and discuss entertainment and we take that responsibility seriously. While we respect our fans' diverse opinions, we do not condone hate speech. Our team of security, network and social experts continue to closely monitor our platforms and any users who engage in such activities will be blocked from our site and their comments removed as quickly as possible,"
If you're getting déjà vu with this story, it's because there was a similar brouhaha made around the reviews for Star Wars: The Last Jedi, which had the dubious honor of receiving the largest disparity between critic and audience scores in Rotten Tomatoes' history. This Facebook group is in fact the same one that took credit for degrading the Last Jedi audience Rotten Tomatoes scores in December, reportedly flooding the page with spam bots to give the film negative reviews. Rotten Tomatoes launched an investigation into these claims and came to the conclusion that The Last Jedi's 55% score was "completely authentic."
But despite our frequent coverage of the worst tendencies of fans online, here's one thing that will convince you that the internet isn't all bad. A group of charitable DC movies fans are raising money to help children in Harlem see Black Panther in theaters. As of this article's publication, the GoFundMe page has raised $3,091 out of its $5,000 goal. Real-life superheroes do exist. 
Update: At 1 p.m. EST on Friday, the fundraiser completed its goal with a total of $5,500 thanks to a large donation from Fandango's Erik Davis.
UPDATE: This campaign is officially complete. I just donated the remaining balance of over $1,800 of my own money from my own bank account so that kids from my city could go see #BlackPanther for free. pic.twitter.com/gbLq3SK6Ct

— Erik Davis (@ErikDavis) February 2, 2018
For now, it seems that this attempted hijacking of Black Panther's Rotten Tomatoes score has been stopped in its tracks, or simply moved to another, less public arena. The publicity that this group gained will likely not affect the box office performance of Black Panther, which is on track for a $120 million-plus domestic debut and now boasts the highest Fandango pre-sale tickets of any superhero movie. Critical reception has been warm to the comic book movie too, with early buzz suggesting that this could be one of the best Marvel movies yet.
Black Panther is set to hit theaters on February 16, 2018.