'Rise Of The Teenage Mutant Ninja Turtles' Images Reveal The New Black April O'Neil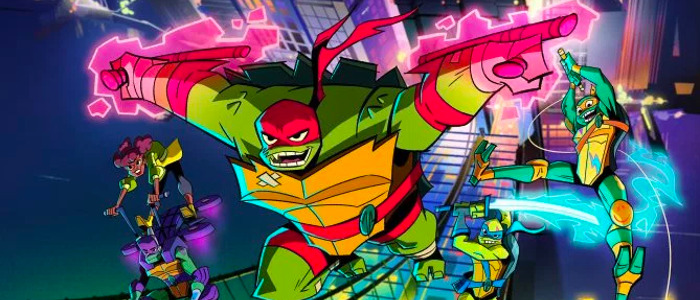 The Teenage Mutant Ninja Turtles are back in a new animated series. The show Rise of the Teenage Mutant Ninja Turtles will reboot those pizza-loving mutants everyone knows and loves and offer a refreshing change for the series: the new April O'Neil will be black. Some new Rise of the Teenage Mutant Ninja Turtles images reveal your first official look at the new takes on the old characters.
Rise of the Teenage Mutant Ninja Turtles is making Ninja Turtle history by bringing in a much more diverse group to voice its cast of characters. For starters, the character of April O'Neil (voiced here by Kat Graham), who has been white in earlier incarnations of the franchise, will be African American. The cast includes Omar Miller (Ballers) as Raphael, Ben Schwartz (Parks and Recreation) as Leonardo, Josh Brener (Silicon Valley) as Donatello, Brandon Mychal Smith (You're The Worst) as Michelangelo, Kat Graham (The Vampire Diaries) as April O'Neil and Eric Bauza as Splinter, the giant rat who trains these turtles in martial arts. Nickelodeon (by way of TVLine) has released new images of the characters, and you can see them all below.
Interestingly, /Film contributor Rosie Knight took to Twitter to note that while this may be the first animated version of April to be a woman of color, the character's earliest incarnation was intended to be a black woman:
Personally, I'm less enamored with these designs. While I appreciate the push for diversity among the cast and characters, the artwork here is stylized to the extreme, full of sharp angles and blunt edges. Perhaps they'll look better in motion, but here, as individual images, they leave a lot to be desired. For instance: what is up with Leonardo's knees? Why are they as sharp as daggers? Is that part of his new fighting ability, sharp knees? Perhaps I'm just nitpicking.
Here's a character breakdown that further reveals how the characters will be updated for the new series.
Raphael, as the oldest and physically biggest brother, he is now the leader and his enthusiasm and bravado puts him front and center for most of their bizarre adventures
Leonardo, the self-professed 'coolest' brother possesses irreverent charm and a rebel heart
Donatello, an unflappable mechanical genius and tech wizard whose ninja skills are second only to his coding
Michelangelo, the youngest brother, an artist and awesome skateboarder with a wild colorful, and imaginative personality
April O'Neil, the Turtles' most trusted ally, as a street savvy native New Yorker who is always ready to join in the fun.
Rise of the Teenage Mutant Ninja Turtles "follows the band of brothers as they discover new powers and encounter a mystical world they never knew existed beneath the streets of New York City." The series will premiere later this year.