New 'Infinity War' Weapons Revealed For Cap And Thor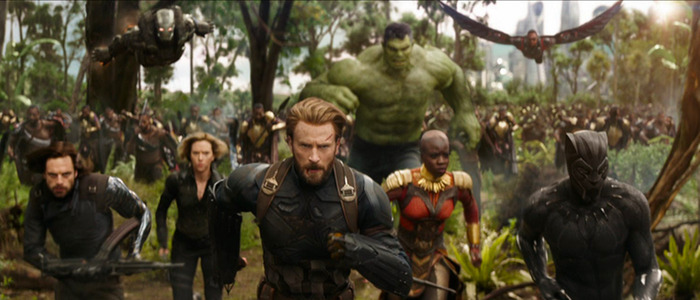 Marvel may try hard to keep details of their big movies a secret, but secrecy is no match for toy releases spoiling things. Thanks to some early toys, we now have a look at two new Avengers: Infinity War weapons for Captain America and Thor that will be featured in the highly-anticipated sequel. You win this round, toys.
If you want to avoid any and all information about Avengers: Infinity War, it's time to turn back now, because I guess the information that follows can be considered spoilers. While there's still a lot we don't know about Marvel's huge upcoming sequel, some new toy releases have given away some potentially interesting details about the film – specifically the new weapons some characters will have.
First up, this tweet featuring some Infinity War Marvel Legends figures shows off the bearded Captain America with what appears to be a brand new shield. Not only that, but the shield looks a bit Wakandan. This makes sense: after all, the Infinity War trailer featured both a shot of Cap fighting alongside Black Panther in Wakanda, and also featured a moment where Black Panther, aka T'Challa, says "Get this man a shield." Of course, Wakanda is a major source of vibranium, the rare substance that was used to construct Cap's original shield and has allowed T'Challa's homeland to thrive.
Another interesting reveal here: Captain America will also have two detachable hands! Unless that's just part of the toy and not at all related to the movie.
Then we have this Thor Funko Pop, courtesy of Reddit.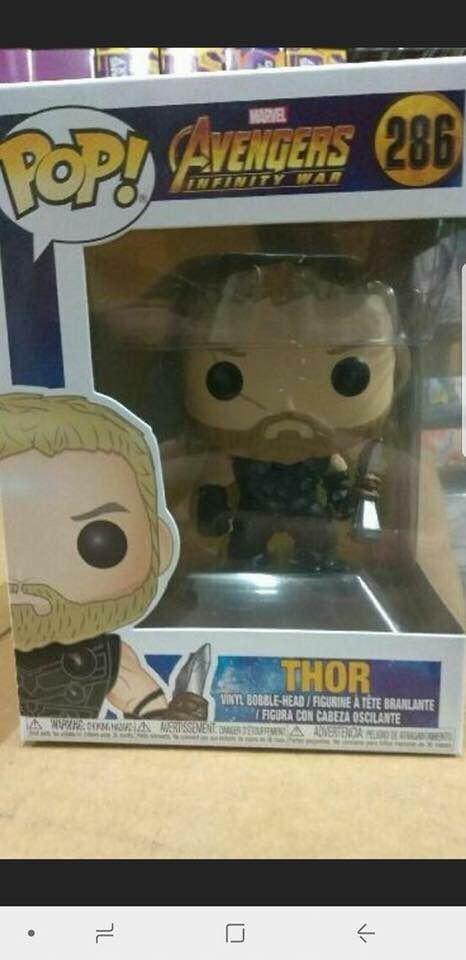 As you'll no doubt remember, Thor lost his mighty hammer Mjolnir in Thor: Ragnarok when Cate Blanchett's Hela crushed it in her hand. Thor might get his hammer back for Infinity War, but in this image, we see him clutching a much cruder looking weapon. Thor actor Chris Hemsworth has teased the new weapon before, saying:
"You'll have to see, I can't give that away. But there is something pretty exciting coming. I think the fans will know and love and be excited for it."
According to CBR, there's a good chance this weapon is straight out of the comics. In 2013's Thor: God of Thunder, from writer Jason Aaron and artist Esad Ribic, readers got to see a young Thor in the days before he took up Mjolnir. Then, he had a battle axe dubbed Jarnbjorn. Could that be what this new Infinity War weapon is? It sure looks like it. Here's an image from the comics for comparison.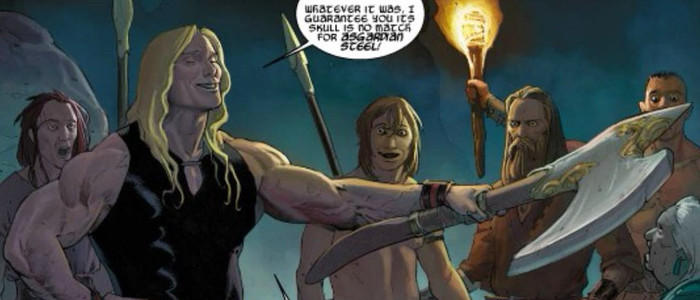 Well know for sure just what this weapon is when Avengers: Infinity War hits theaters on May 4, 2018.
Iron Man, Thor, the Hulk and the rest of the Avengers unite to battle their most powerful enemy yet — the evil Thanos. On a mission to collect all six Infinity Stones, Thanos plans to use the artifacts to inflict his twisted will on reality. The fate of the planet and existence itself has never been more uncertain as everything the Avengers have fought for has led up to this moment.