'Game Night' Trailer: When Friendly Fun Turns Deadly Hilarious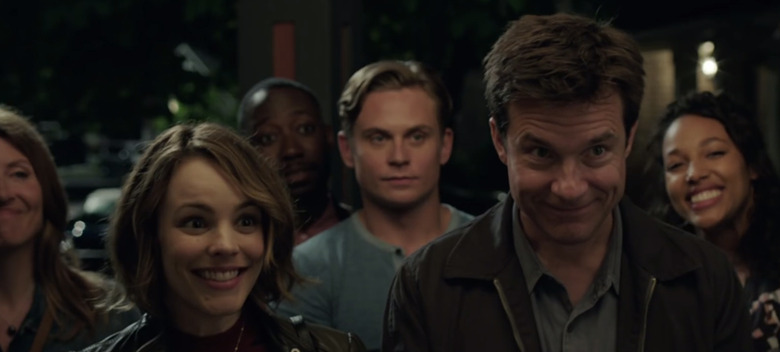 The last time Rachel McAdams got caught up in R-rated comedy shenanigans, it was in Wedding Crashers back in 2005. Now, she's teamed up with Jason Bateman for what promises to be a deadly hilarious couples' night.
Game Night follows Jason Bateman and McAdams as a married couple who were expecting to enjoy a weekly game night with their friends played by Kyle Chandler (Super 8), Billy Magnussen (Bridge of Spies), Sharon Horgan (Catastrophe), Lamorne Morris (New Girl), and Kylie Bunbury (Under the Dome). But when the game turns into an all-too-real kidnapping mystery, the night takes some strange and dangerous turns.
Game Night Trailer
This trailer hits a lot of the same beats from the first one, but it peppers some new jokes and scenes in there as well, letting Lamorne Morris and Billy Magnussen get some great lines, as well as showing us how our main characters met. But it's Jason Bateman's dry, sarcastic reactions that really take the spotlight. While I'm not entirely sure the movie will deliver a satisfying experience that lives up to the fantastic premise, I'm hopeful that it will at least bring some big laughs.
However, I hope that the end of this trailer isn't spoiling the third act. As Rachel McAdams and Jason Bateman are in pursuit of the kidnapped Kyle Chandler, they're trying to stop a plane from taking off and that seems like a pretty big setpiece that would fit well in the third act of the movie. Hopefully, there's more to it than that. Plus, that scene also reveals Michael C. Hall in the movie for the first time and it looks like he's playing the primary villain.
Game Night is directed by John Francis Daley and Jonathan Goldstein, the Spider-Man: Homecoming writers who were recently hired to direct The Flash for Warner Bros. Pictures. Maybe this movie served as a bit of an audition for them to direct the comic book flick. We'll know better when the movie arrives later this month.
Jason Bateman and Rachel McAdams star as Max and Annie, whose weekly couples game night gets kicked up a notch when Max's charismatic brother, Brooks (Kyle Chandler), arranges a murder mystery party, complete with fake thugs and faux federal agents. So when Brooks gets kidnapped, it's all part of the game...right? But as the six uber-competitive gamers set out to solve the case and win, they begin to discover that neither this "game"—nor Brooks—are what they seem to be. Over the course of one chaotic night, the friends find themselves increasingly in over their heads as each twist leads to another unexpected turn. With no rules, no points, and no idea who all the players are, this could turn out to be the most fun they've ever had...or game over.
Game Night hits theaters on February 23, 2018.