'The Week Of' Trailer: Adam Sandler & Chris Rock Tolerate Each Other For Their Kids' Wedding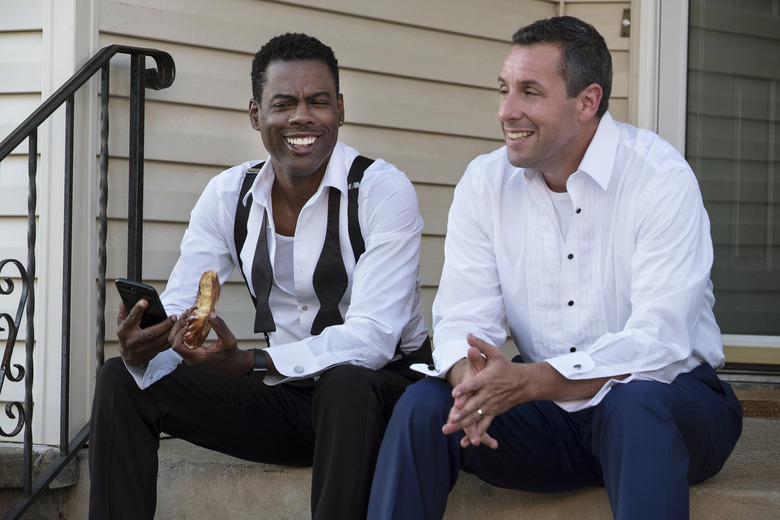 Adam Sandler and Chris Rock have gotten together for a handful of comedies like Grown Ups and The Longest Yard, but they've never really shared a lot of screentime together. But in a new Netflix original film, they'll be spending plenty of time getting on each others' nerves.The Week Of follows the Saturday Night Live veterans as two fathers who are coming together so their kids can be married. In the week leading up to the wedding, everything can and does go wrong, and these two are not making it any easier on anyone.
The Week Of Trailer
For the first half of this trailer, I was actually intrigued by the prospect of this movie because it seemed like it might just follow Adam Sandler and Chris Rock on a road trip to their kids' wedding, almost like a Planes, Trains and Automobiles meets Father of the Bride kind of scenario. But then the rest of the trailer shows the typical family awkwardness and wedding planning shenanigans.
Honestly, while this trailer didn't exactly make me laugh out loud, this is the first time in forever that I wasn't completely turned off by an Adam Sandler comedy. That might be a low bar to clear, but it was a pleasant surprise. At the same time, I didn't see anything that made me excited to see it, either. It certainly looks more tame than Sandler's usual comedic efforts, even with usual suspects like Rachel Dratch and Steve Buscemi hanging around.
The style in which this movie is shot and the production design feels a little more reserved as well. Usually, we're dealing with bright colors all over the place and nothing particularly interesting about the cinematography. But right away, you can tell this movie looks different, and that's because it's shot by Patti Cake$ director of photography Federico Cesca.
Perhaps this will break Sandler's streak of terrible comedies. After all, Saturday Night Live writer Robert Smigel is making his feature directing debut with this movie, so maybe he has something to prove. On the other hand, Smigel also wrote You Don't Mess with the Zohan, so maybe we shouldn't get our hopes up that high. Frankly, I'd like to just be satisfied by an Adam Sandler movie again, so I'm rooting for this one.
When two very different fathers (Adam Sandler and Chris Rock) come together for their children's wedding, everything that could go wrong, does. Watch the hilarious hijinks as the two try to keep everything afloat, while dealing with their families...and each other. Before they get to the big day, they have to go through a long week.
The Week Of hits Netflix on April 27, 2018.