'Fantastic Beasts' Sequel Will Ignore Dumbledore Being Gay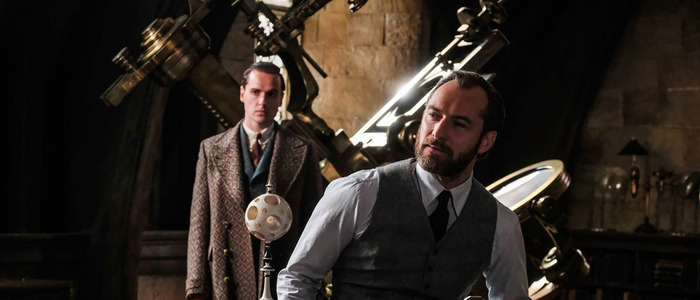 While J.K. Rowling has confirmed in the past that Albus Dumbledore was gay, don't expect the character's sexuality to come up when he appears in the upcoming Fantastic Beasts: The Crimes of Grindelwald. Director David Yates confirms that rather than address Dumbledore's sexuality, the film will take the cowardly way out and dance around the issue.
I'm just going be blunt: this is a total cop-out, and this franchise could do a lot better. David Yates, who helmed Fantastic Beasts and Where the Find Them and the upcoming sequel Fantastic Beasts: The Crimes of Grindelwald, spoke to Entertainment Weekly recently and confirmed that the film will basically ignore Dumbledore's sexuality.
Dumbledore, the headmaster of Hogwarts who was portrayed first by Richard Harris and then Michael Gambon in the Harry Potter films and will be portrayed as a younger man by Jude Law in The Crimes of Grindelwald, was confirmed as being gay by Harry Potter creator J.K. Rowling a decade ago. In addition to that, Dumbledore was said to have had a romantic relationship with Grindelwald, played in the Fantastic Beasts series by Johnny Depp. Anyone expecting these details to be addressed in The Crimes of Grindelwald, however, is out of luck.
When asked if the film will address Dumbledore's sexuality, Yates replied: "Not explicitly." The director then went on to say:
"I think all the fans are aware of that. He had a very intense relationship with Grindelwald when they were young men. They fell in love with each other's ideas, and ideology and each other."
This is basically a lot of words to simply say, "we're not going to address it at all." I suppose someone could (and probably will) argue that the film doesn't need to address Dumbledore being openly gay, but I disagree wholeheartedly. If Dumbledore is supposed to be gay, why not come right out and have that mentioned in the film? Representation matters, and to have an openly gay character out front in a huge blockbuster franchise like this would be a big deal, and a big step forward. Instead, Yates and company seem perfectly fine to just dance around the issue. Yes, I'm sure "fans are aware" of Dumbledore's sexuality, but that's not the same thing as having it explicitly mentioned in the film, and that makes a big difference.
Yates goes on to say that Jude Law's Dumbledore is "a maverick and a rebel and he's an inspiring teacher at Hogwarts. He's witty and has a bit of edge. He's not this elder statesman. He's a really kinetic guy. And opposite Johnny Depp as Grindelwald, they make an incredible pairing."
There is, of course, a chance that Dumbledore's sexuality will come up in future films. At a press conference two years ago, Rowling said, in regards to Dumbledore in the future of the series, "As far as his sexuality is concerned ... watch this space." Rowling herself wrote the screenplay for this film, so there is a real chance she does have a plan in place to eventually address the character's sexuality. But the wording here from Yates really makes this seem as if everyone involved in the film is saying, "We'll get around to this sort of representation sooner or later, I guess." To which I can only reply, "Why not now?"
Because if not now, when?