Paramount Assembles A Writers' Room For 'Ology' Franchise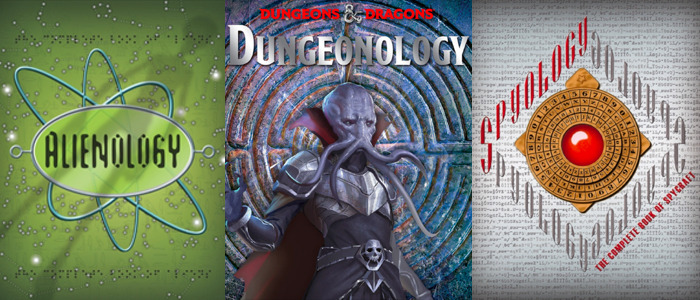 In terms of blockbuster franchises, Paramount Pictures has Mission: Impossible, Star Trek, Transformers, Terminator, Teenage Mutant Ninja Turtles, and the Cloverfield movies to its name. Some of those are more viable than others, so it makes sense that the studio is looking to add some more surefire winners to its library. One of the properties they're betting on is a series of Ology movies, films that will be based on popular young adult "encyclopedias" that explore concepts like "Alienology" and "Spyology."
A writers' room has been put in place to develop scripts for potential movie adaptations, but there's a catch: the person running the whole thing doesn't exactly inspire a lot of confidence.
Yep, that sinking feeling you might feel in the pit of your stomach is justified: the man in charge of this franchise is Akiva Goldsman, the Oscar-winning writer of A Beautiful Mind – but also the guy who's written films like Batman & Robin, Insurgent, The 5th Wave, Rings, and The Dark Tower. Paramount loves working with him for some reason – he has a production deal set up at the studio, and he was the one responsible for spearheading the writers' room for the Transformers Cinematic Universe.
Deadline reports that Goldsman is at it again, this time with the Ology movies, and he's hired six other writers to help out: Michael Chabon (John Carter), Christina Hodson (Bumblebee), Nicole Perlman (Guardians of the Galaxy, Captain Marvel), Jeff Pinkner (The Dark Tower, Jumanji: Welcome to the Jungle), Lindsey Beer (Kingkiller Chronicle), and Joe Robert Cole (Black Panther, The People vs. O.J. Simpson).
The outlet says the current hope is that each writer will come up with a take on one of the books and create a treatment before moving on to eventually writing the screenplay. If all goes well, they'll end up with seven movies with connected stories (Goldsman is writing one of the scripts himself).
I've never read these books, but they sound like fun. Here's the synopsis of Oceaonology, just to give you an idea of what these writers are dealing with:
Follow the fascinating journey of Captain Nemo and explore the ocean's wonders, both real and imagined...or are they?
What if a sixteen-year-old assistant traveled aboard the storied Nautilus, the narwhal-shaped submarine of 20,000 Leagues Under the Sea? And what if he were the sole survivor of the ill-fated voyage and went on to relay his adventures to a certain...Jules Verne? Find this brave young man's own account in the lavishly illustrated Oceanology, a tale of an 1866 voyage of discovery that investigates diving bells and shipwrecks; coral reefs and ice canyons; sharks, giant octopi, and luminous sea monsters; underwater volcanoes, and even the legendary island of Atlantis.
The books have sold 18 million copies worldwide,and cover a variety of different topics: Alienology, Dungeonology, Spyology, Oceanology, Knightology, Dinosaurology, Dragonology, Monsterology, Vampireology, Egpytology, and Mythology.
Paramount is hoping to build a "live-action family franchise universe" here, but since Goldsman is leading the charge, they'll have to forgive me for doubting that this will turn out to be any good.