'Pacific Rim Uprising' Early Box Office Projections Put It Below The Original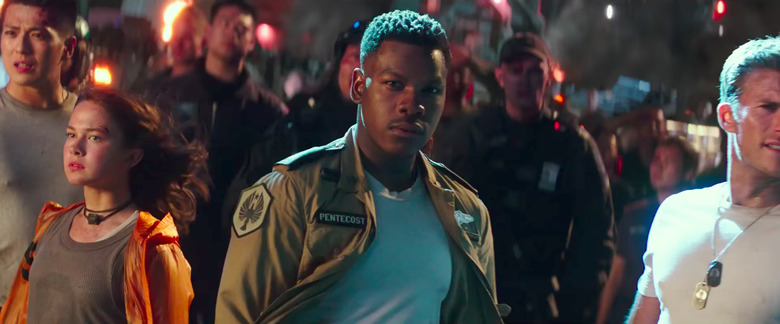 The monster may be bigger in Pacific Rim Uprising, but it appears that the box office for the science-fiction sequel may not.
Early box office projections for Pacific Rim Uprising have been released, and the Steven S. DeKnight-helmed sequel to Guillermo del Toro's Pacific Rim is projected to open to lower box office numbers than its 2013 predecessor.
A report from the box office tracking site BoxOfficePro predicts that Pacific Rim Uprising will rake in $20 million during its opening weekend in March. The website projects that the sequel starring John Boyega will only bring in $49 million domestically during its total run.
While these projections are early, it doesn't look good for the box office performance of the sci-fi sequel. This estimation places it well below the modest $37 million that the first Pacific Rim made on its opening weekend in 2013, an already weak performance for a film with a budget of roughly $190 million. Pacific Rim would go on to gross merely $100 million in U.S. theaters, and was considered a flop domestically. However, del Toro's love letter to the mecha anime/monster movie genre was far more successful outside of the United States, raking in $400 million worldwide and becoming a bonafide global hit. In 2013, Forbes described Pacific Rim as "the rare English-language film in history to cross $400 million while barely crossing $100 million domestic."
It should be noted that Pacific Rim Uprising is a cheaper production than Pacific Rim, with a reported budget of $150 million. It'll be interesting to see if history repeats itself and the sequel underperforms with American audiences while striking a chord elsewhere.
Pacific Rim Uprising stars John Boyega, Scott Eastwood, Jing Tian, and Cailee Spaeny, with Rinko Kikuchi, Charlie Day, and Burn Gorman reprising their roles from the first film.
Here is the official synopsis for Pacific Rim Uprising:
Jake Pentecost is a once-promising Jaeger pilot whose legendary father gave his life to secure humanity's victory against the monstrous Kaiju. Jake has since abandoned his training only to become caught up in a criminal underworld. But when an even more unstoppable threat is unleashed to tear through cities and bring the world to its knees, Jake is given one last chance by his estranged sister, Mako Mori, to live up to his father's legacy.
Pacific Rim Uprising is set to open in theaters on March 23, 2018.