A 'Roswell' Reboot Has Been Ordered By The CW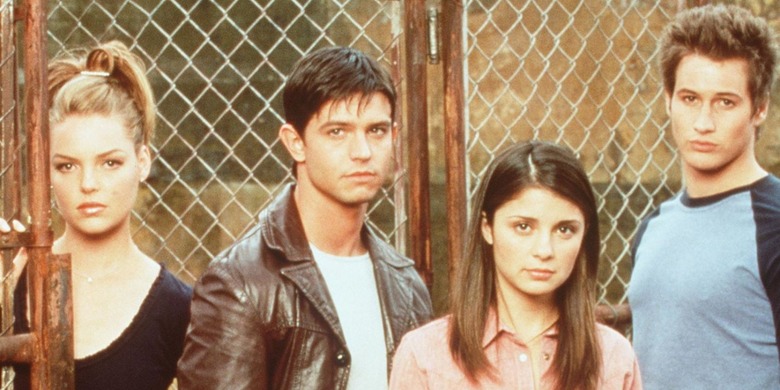 The CW is officially taking us back to Roswell High School. The broadcast network best known for its slate of popular DC superhero shows, surprisingly sharp comedies, and edgy teen soaps has given a pilot order for the Roswell reboot, which will revive the popular '90s science-fiction series with an "immigration twist."
The Roswell reboot has officially landed at The CW, according to Entertainment Weekly. The network has ordered a pilot of the sci-fi soap with an immigration twist, from Originals writer Carina Adly MacKenzie. The series is based on the Melinda Metz book Roswell High, which was the basis for the original '90s WB and UPN drama.
Here is the logline of the reboot, according to EW:
After reluctantly returning to her tourist-trap hometown of Roswell, New Mexico, the daughter of undocumented immigrants discovers a shocking truth about her teenage crush who is now a police officer: he's an alien who has kept his unearthly abilities hidden his entire life. She protects his secret as the two reconnect and begin to investigate his origins, but when a violent attack and long-standing government cover-up point to a greater alien presence on Earth, the politics of fear and hatred threaten to expose him and destroy their deepening romance.
While the original Roswell series focused on the high school outsider narrative (a popular theme in '90s dramas), the reboot will run with an immigration angle, portraying the aliens as persecuted, well, aliens on the run from the government. It's an issue that's becoming increasingly popular at The CW, where Jane the Virgin and Supergirl both addressed the growing animosity against immigrants today. In fact, Supergirl is already kind of doing the "aliens as immigrants" metaphor, so it will be interesting to see how the Roswell reboot distinguishes itself.
The original Roswell ran from 1999 to 2002 and was the launching pad for the careers of Shiri Appleby (now appearing on Lifetime's acclaimed series UnReal), Katherine Heigl (Grey's Anatomy), Emilie de Ravin (Lost), and Colin Hanks (Fargo). It also starred Gen-X stalwart Jason Behr as the alien teen hiding his identity.
The Roswell reboot joins eight other standalone pilots at The CW this season, including a Charmed reboot, the Ben Stiller project In the Dark, Greg Berlanti's Spencer, the dysfunctional mortician family dramedy Playing Dead, the female vengeance thriller Skinny Dip, and the Supernatural spin-off Wayward Sisters.
Roswell will be written by MacKenzie, who will executive produce alongside Justin Falvey, Darryl Frank, Lawrence Bender, and Kevin Kelly Brown, an executive producer on the original series.