'House Of Cards' Final Season Adds Diane Lane And Greg Kinnear To The Cast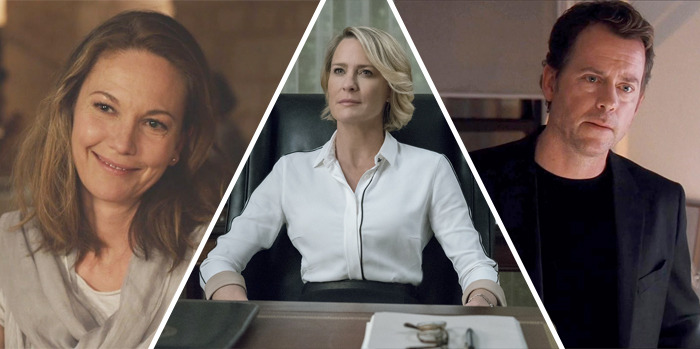 Netflix's political drama series House of Cards is being shaken up after the firing of Kevin Spacey following sexual misconduct allegations. The show is entering its final season, and without Spacey returning as Frank Underwood, the show will instead focus on Robin Wright as his wife Claire Underwood. However, some new faces will be joining the production as well.
Oscar nominees Diane Lane (Man of Steel) and Greg Kinnear (Little Miss Sunshine) have been added to the cast of House of Cards. But who will they be playing?
The Hollywood Reporter has word that Lane and Kinnear are joining the cast as a pair of siblings. However, there are no more details on how they will impact the story or what they'll be up to during the season. They'll be joined by returning cast members Michael Kelly, Jayne Atkinson, Patricia Clarkson, Constance Zimmer, Derek Cecil, Campbell Scott and Boris McGiver, though Neve Campbell will not be reprising her role.
The entire trajectory of House of Cards was reworked last year following Kevin Spacey's firing from the show. There have been rumors that his character will be killed off, but no matter the fate of Frank Underwood, the show will now be led by Robin Wright. The writers spent their hiatus from production reconfiguring everything to revolve around her character. We're not sure if Kinnear and Lane's characters were always part of the equation or if they were additions that came with the retooling of the final season.
While the circumstances of Kevin Spacey's removal from House of Cards were certainly a big deal, shifting the focus of the show to Robin Wright isn't exactly a stretch. In the book that inspired the series, written by Michael Dobbs, Frank Underwood does indeed die. There's no guarantee that will happen in this final season, but surely there will be some kind of narrative explanation for why the character is no longer around.
Fixing House of Cards was just one of the many changes Netflix had to make behind the scenes after the allegations against Spacey surfaced. The streaming service was also working on a Gore Vidal biopic with Spacey involved. The axing of that project as well as the cost of fixing the final episodes of House of Cards cost Netflix a total of $39 million.
It's anybody's guess as to how this final season of House of Cards will play out, or if viewers are even interested in seeing how the show continues following the accusations against Kevin Spacey. There's no estimated release date for the final season of House of Cards just yet, but as soon as we hear anything, we'll let you know.