'Bad Boys For Life' Gets A Director, TV Spin-Off Enlists A Ghostbuster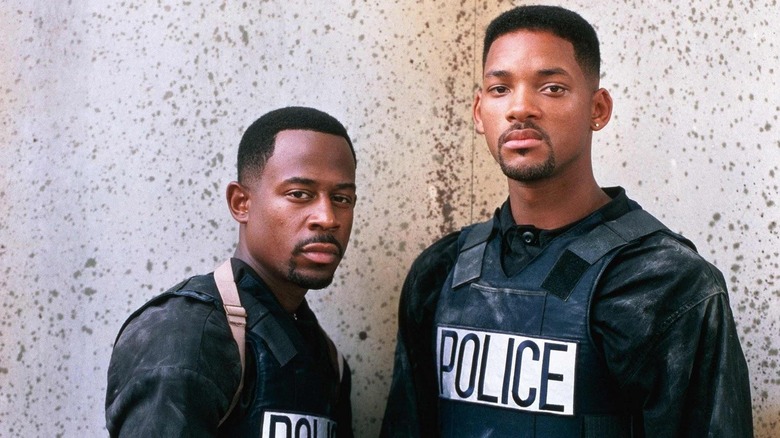 The two Bad Boys projects are finally gonna come to you.
The long-gestating third Bad Boys film, known as Bad Boys For Life, has tapped a directing duo and is eyeing an August production start. Meanwhile, the Bad Boys TV spin-off, featuring Gabrielle Union reprising her role from Bad Boys II, has cast Ghostbusters' Ernie Hudson as her father.
According to Deadline, Sony is negotiating with Adil El Arbi and Bilall Fallah, the Moroccan-born directing duo behind the Romeo and Juliet-inspired crime drama Black, to helm Bad Boys For Life. The action-comedy sequel would reunite Will Smith and Martin Lawrence in the lead roles.
Producer Jerry Bruckheimer, who will be back to produce the Bad Boys for Life, has been talking up the possibility of a Bad Boys 3 for years (Joe Carnahan was set to direct for a long time). Now the sequel is finally moving forward once again, 15 years after the release of Bad Boys II. In the fall, Bruckheimer assured fans that Bad Boys for Life would happen after scheduling conflicts were cleared and a script was chosen:
"Well, we've been developing it for I don't know how many years now and we had a period of time where it got pretty close and then it drifted away a little bit and hopefully it will drift back again. We have a new writer on it who's working on it right now, so that gives me encouragement."
The current draft of the script comes from The Wedding Ringer producer Chris Bremner. Smith and Lawrence's team haven't confirmed their involvement in Bad Boys for Life yet (as recently as last summer, Lawrence said it wouldn't happen at all), but Sony seems intent on bringing the franchise back from the dead. The original bombastic, hyper-violent film by Michael Bay helped launch Smith into superstardom and Lawrence into mainstream fame, so it would be a surprise if the two of them didn't return as the buddy-comedy detective duo.
But if Smith and Lawrence are hesitant about reprising their roles, one former Bad Boys co-star is not. Gabrielle Union will be returning as Syd Burnett, the undercover DEA special agent and sister of Martin Lawrence's Marcus in an untitled Bad Boys TV show. The spin-off will be a female-driven detective show centered around Syd as she leaves the DEA to get "a fresh start in her new job as an LAPD detective" and is "partnered with Nancy McKenna, a working mom who can't help but look at Syd's freedom with some grass-is-greener envy." According to Deadline, Ghostbusters star Ernie Hudson has been cast as Syd's father in the procedural action series. The series will be written by The Blacklist writers-producers Brandon Margolis and Brandon Sonnier and will air on NBC.