Movie Mixtape: 6 Movies To Watch With 'Winchester'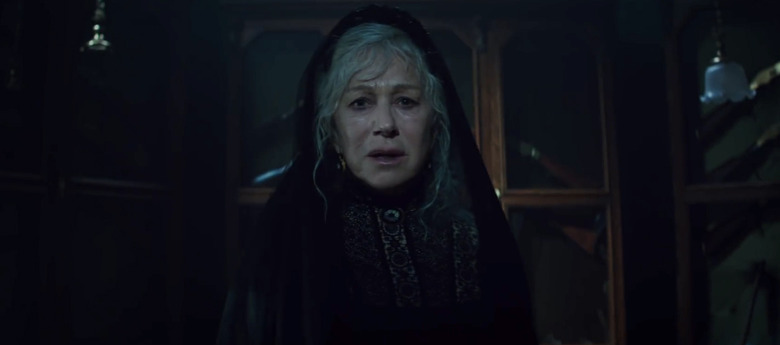 (Welcome to Movie Mixtape, where we find cinematic relatives and seek out interesting connections between new releases and older movies that allow us to rethink and enjoy what's in our theaters as well as the favorites on our shelf. In this edition: Winchester.)
When you live in the Bay Area, you're bombarded by flashy signs (and bumper stickers, oh, the bumper stickers) advertising the Winchester Mystery House. It's a super strange house in San Jose, California, with bizarre architecture that features stairs to nowhere and doors that open to two-story drops. Now, there's a movie about it.
Or, really, there's a movie that places it and former owner, Sarah Winchester, in the middle of a ghost story. Winchester, the real-life heiress to her husband's rifle fortune, used her massive wealth to continue construction on the mansion every day for 38 years, with (unsubstantiated) rumors circulating that she was doing so at the behest of a Boston medium who told her she was being haunted by the souls of Winchester rifle victims.
It's that rumor that writer/directors the Spierig Brothers and screenwriter Tom Vaughan have used as the basis for Winchester, a tale about a psychologist named Eric Price (Jason Clarke) meeting with Winchester (Helen Mirren) to determine her sanity when, you guessed it, the ghosts she's trying to keep at bay get angry.
Let's look at some movies to watch with Mirren's ghost mob.
13 Ghosts (1960)
A spiritual (sorry) sequel to William Castle's House on Haunted Hill, 13 Ghosts sees the poor Zorba family inherit a haunted house and its riches from their occult-obsessed relative. Castle's House on Haunted Hill is the better movie (mostly because of Vincent Price and his catty bouts with Carol Ohmart), but 13 Ghosts still has a shabby charm, and it shares a theme with Winchester of trapping ghosts in a house.
Castle's gimmick for this one was letting people choose whether to see the ghosts or not by looking through a special pair of glasses (that echoed the spacey specs the Zorba family used to watch their ghost roommates). The 2001 remake (starring Tony Shaloub, Shannon Elizabeth, and Matthew Lillard) is...surprisingly good, especially the design of the ghosts and the clockwork glass panels imprisoning them.
Predestination (2014)
The Spierig Brothers have made a name for themselves by bootstrapping genre pictures using small-to-medium budgets and cutting corners by doing VFX and scoring work themselves. The criminally-underseen Predestination continued that trend. Based on the Robert A. Heinlein story "'—All You Zombies—'," the film features Ethan Hawke as a time traveling agent trying to prevent a serial bomber from attacking in New York City in 1975. If that sounds like the kind of generic sci-fi thriller set-up you'd need to strap yourself in for, plan on needing a dozen more seat belts for the twists and turns because your mind will be put through the blender with this one. And you'll thank it.
As a bonus, Sarah Snook (who is also in Winchester) plays a dynamite role as storyteller, guide, and impossible girl. You could also say that Predestination involves a family being haunted throughout its past, present, and future.
Sarah Winchester, Phantom Opera (2016)
There have been dozens of comic books and novels written about Sarah Winchester and her kooky house, but there's never been a movie until now...unless you count the short film Sarah Winchester, Phantom Opera. It's a gorgeous experimental piece that stitches together an orchestral performance in Opera Bastille, a concerned dancer in Opera Garnier, and sketch imagery of the mansion, all meant to evoke Sarah Winchester's chaotic mind.
It's in French without subtitles (sorry, non-Francophones), but you don't have to understand the words to appreciate the breathy, spectral mood.
The Conjuring (2013)
This is the mainstream, no-brainer of the group, as the Winchester trailer already throws off a lot of Conjuring vibes. There's a creepy house filled with malevolent spirits, a family living with the danger, and someone arriving to investigate it all. Oh, and they're both based on real life events. Winchester is set further in the past, but even with its antique fixtures, the camerawork still echoes the same kind of horror flavor as James Wan's spooky tale.
For those who haven't yet checked it out, The Conjuring features Vera Farmiga and Patrick Wilson as Lorraine and Ed Warren, real-life demonologists who investigate a shoddy family house in Rhode Island that doesn't seem to like the family that just moved into it.
The Innkeepers (2012)
To keep the ghost train rolling, let's stay overnight at the Yankee Pedlar Inn, where Claire (Sara Paxton) is hunting for the body and soul of a woman who killed herself after being left by her fiance. Ti West's atmospheric wonder feels like a cinematic ghost story from the 1970s with a modern indie flair and stellar turns from Paxton and national treasure Pat Healy.
As a double feature with Winchester, it should showcase two very different tonal takes on ghosts in grand old buildings (albeit with quiet breath-holding punctuated by jump scares).
The Man From Beyond (1922)
Harry Houdini was such a titan of his own craft that few people know that he starred in several films as a side hustle. The greatest escape artist of all time dabbled in the early days of the art form in pieces that mostly showed off elements from his magic act, with plot loosely wrapped around them. If you know his work, you understand why he wouldn't make a movie about the supernatural. The closest he came to a fantastical tale was 1922's The Man From Beyond, where he starred as a man frozen in ice for a hundred years, who is uncovered and sent to an insane asylum from which he must, you guessed it, escape. The film also came out the same year Sarah Winchester died.
Houdini visited the Winchester House after her death when spiritualists came flocking. He cited the original medium who supposedly told Sarah Winchester she would stay alive as long as she kept adding to the house as an example of spiritualism creating madness.
One last weird thing (and I can't confirm that The Spierig Brothers intended this): Clarke's ghost-skeptic character's name in Winchester is Eric Price, which is awfully close to Harry Houdini's real name, Erik Weisz.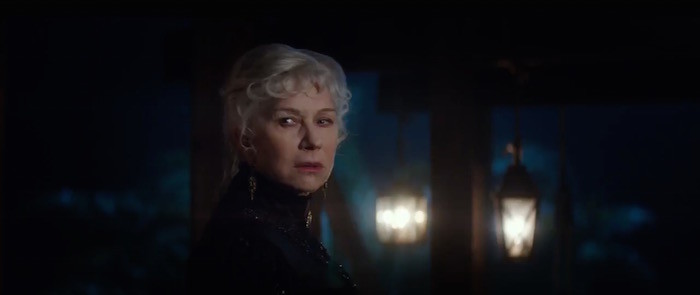 The Mix
We celebrate ghosts in our lives in many different ways. They could be invisibly flipping the meat you left on your counter or hiding under a sheet until they find the piece of paper you hid in the wall. What's strange is that Winchester appears to take Sarah Winchester's legacy – already clouded by rumor – at its word, believing not only that her constant construction was meant to stave off revenge-happy phantoms, but also that she was right.
That's another freakish addition to tack onto a perpetually growing mansion. Winchester should show us the evolution of the Spierig Brothers as more mainstream genre filmmakers, give off a throwback aura, and keep us up at night, even if Houdini would have rolled his eyes.