Netflix Might Sign Multi-Picture Deal With Luc Besson And EuropaCorp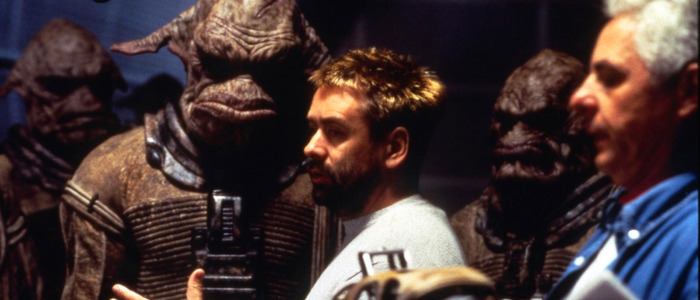 Luc Besson and EuropaCorp may have taken a big financial hit when Valerian and the City of a Thousand Planets bombed at the box office, but that doesn't mean they're down for the count. Word comes today that Netflix, in their never-ending quest to produce all the content you'll never need, are in talks with Besson and EuropaCorp for a multi-picture deal. Fingers crossed for Valerian 2? More on the Luc Besson Netflix deal below.
Who says there are no second chances? After a record loss of $135 Million thanks to the box office failure of Valerian and the City of a Thousand Planets, director Luc Besson and EuropaCorp might be ready to bounce back. Variety reports that Netflix is in talks with Besson and EuropaCorp to have Besson produce and direct several films over the next few years. The films would be Netflix originals, each with a $30 million budget. In other words, don't expect huge, expansive Valerian-like adventures here. But if Besson wanted to make a whittled-down Valerian sequel, this might be his chance.
The deal might also give Netflix the option to buy into EuropaCorp's library, which includes the Taken and Transporter franchises. Netflix isn't the only company interested in EuropaCorp – Lionsgate has been considering purchasing as well. EuropaCorp clearly needs the help. They're currently buried under a heavy debt load of about €230 million ($285 million). Per Variety, EuropaCorp's value has" plummeted by more than 60%" since the release of Valerian and the City of a Thousand Planets.
If Netflix goes ahead with this deal, it'll be just another addition to their never-ending quest to build an unbeatable library of original content. Recently, the streaming giant signed a deal with Mark Millar's Millarworld to create a wealth of original content. Besson would be the latest big filmmaker to climb aboard Netflix, joining heavy-hitters like Martin Scorsese, Angelina Jolie, Bong Joon-ho, Damien Chazelle and more.
For now, Netflix is riding high, but they'll soon have some stiff competition. Disney is currently hard at work building their own streaming service, and so is Apple. In other words, everyone knows that streaming is the future, and everyone is trying to get in on the ground floor now. The future of how films are created, and distributed, is about to change forever, whether we like it or not.
Meanwhile, Besson is not letting the failure of Valerian slow him down. The director is currently filming Anna, starring Helen Mirren, Cillian Murphy and Luke Evans.