Emily Blunt Boards Disney's 'Jungle Cruise' With Dwayne Johnson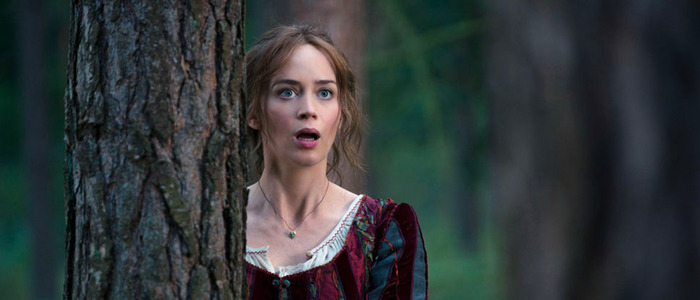 Jungle Cruise, the latest Disney theme park attraction to get the big screen treatment, just added a new passenger: Emily Blunt. Blunt will co-star alongside Dwayne Johnson in the upcoming film helmed by Orphan and The Shallows director Jaume Collet-Serra.
Turning a theme park ride into a movie may not sound like the most rewarding of cinematic endeavors, but Disney has had some success here before: they adapted Pirates of the Caribbean into a multi-billion dollar film franchise. Now the House of Mouse is giving it a go again with Jungle Cruise and they're lining up some surprising talent for the project. Orphan, The Shallows and House of Wax filmmaker Jaume Collet-Serra is set to direct, Dwayne "The Rock" Johnson will star, and now Variety reports that Emily Blunt has joined the Jungle Cruise cast as well. This will mark Blunt's third collaboration with Disney, having previously starred in the musical Into the Woods and taking the lead in the upcoming Marry Poppins Returns.
The Jungle Cruise is one of the earliest Disney attractions and a mainstay at the company's theme parks all over the world. What originally began as a somewhat serious journey through a faux jungle populated by audio-animatronic animals has evolved into a more humorous experience over the decades, with your live "skipper" providing a goofy spiel filled with dad jokes. There's no real story here, just a series of scenes (some thrilling, some spooky, all silly) that your boat drifts by. In other words, it's a pretty open-ended template for a big adventure movie set in the jungle. Let's hope The Rock gets to tell a bunch of corny jokes.
Disney has been trying to launch a Jungle Cruise movie for a while now. In 2011, Toy Story stars Tom Hanks and Tim Allen were announced as the leads of the film, but that fell through. Michael Green, who recently landed an Oscar nomination for his work on Logan, is on board to write the latest draft of the script. I have no idea how Disney will turn this idea into a movie, but they'll find a way.
Sources say the project is being described as an "Indiana Jones-like adventure," with the Rock stepping into the globetrotting adventurer role. THR has also reported that the film will be a period piece set in the past and that the story bears a resemblance to the 1951 film The African Queen, starring Humphrey Bogart and Katherine Hepburn.  There's no word on Blunt's character yet, but if the African Queen comparison is correct, I'd assume she's playing the Hepburn-like role to Johnson's Bogart.