'Ant-Man And The Wasp' Trailer Breakdown: Pym Technologies Is Getting A Little Reckless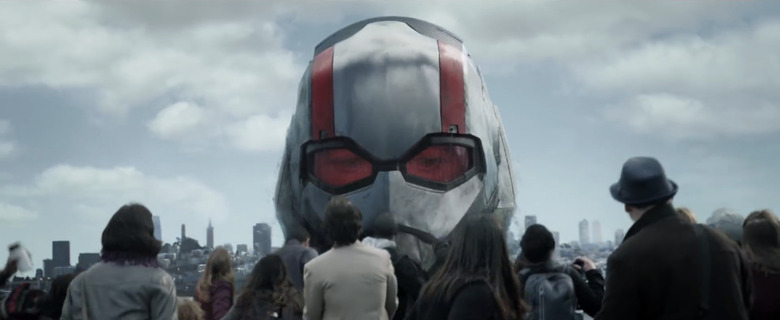 This morning brought the first trailer for Marvel's Ant-Man and the Wasp. Even though there's plenty of footage in the trailer, which runs just over a minute and a half, we only get a few story details, and none of them include any information on just what kind of villain our new superhero team will be contending with this time. But even so, there were plenty of details to notice, and we'll run through some of the finer points in our Ant-Man and the Wasp trailer breakdown.
Unlike some of our trailer breakdowns, this won't exactly be a frame-by-frame analysis looking for intricate details, mostly because there aren't a lot of them to glean in this first trailer. But we'll point out some key revelations and speculation based on what is shown. So let's get down to it.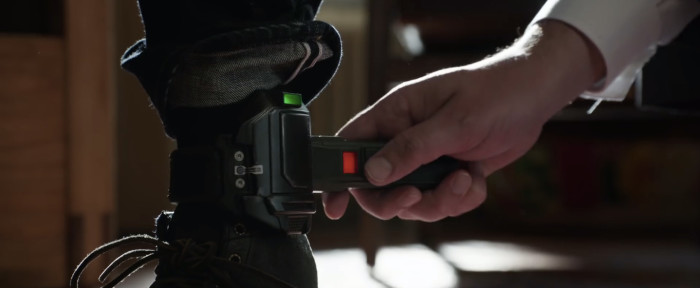 We're not exactly sure of the finer details of what happened after the final moments of Captain America: Civil War, but it appears that after Captain America broke Scott Lang and the rest of the captured superheroes out of the Raft containment center in the middle of the ocean, he ended up getting captured again. So now he's under some serious house arrest imposed by the FBI after his publicized actions fighting with the Avengers in his giant-sized mode. That house arrest anklet looks a little more high tech than the usual tracking device, so maybe it prevents him from shrinking in size while it's on?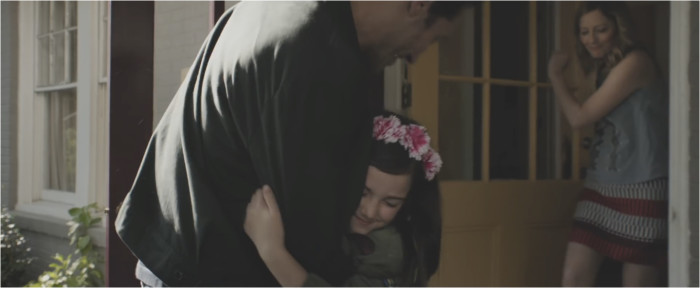 It looks like maybe Scott Lang isn't necessarily confined to his house though. Perhaps he's merely being tracked by the FBI and he has permission to visit his daughter. Or maybe this scene takes place before he gets captured again by the FBI. Either way, it's nice to see that the adorable Abby Ryder Forston is back as Lang's daughter Cassie.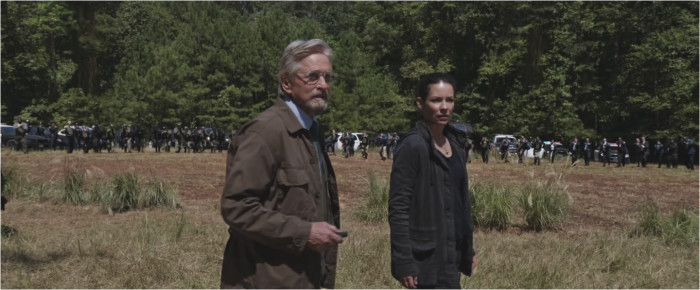 Anyway, Scott's actions in helping Captain America have other consequences too. It appears the law went after Hank Pym and his daughter Hope Van Dyne and caught up with them. There's a chance Hope might even be a little miffed at Scott since he decided to help Cap without even asking her. She even taunts him by telling him that if he had asked her to help, he wouldn't have gotten caught. Though considering the fact that she and Hank Pym end up getting caught, that may not necessarily be true.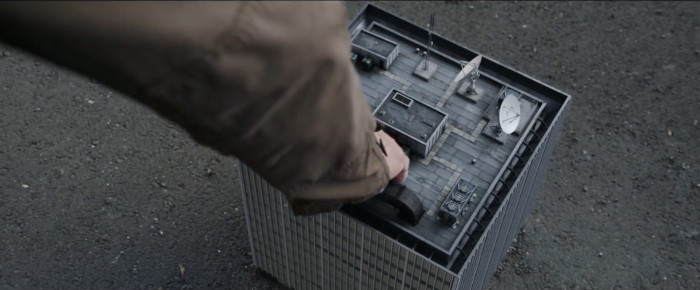 In the trailer, Hope says they're still on the run. Presumably that means that the father-daughter duo escaped custody (or never got into custody, since it looks like Pym has one of his shrinking remotes in his hand in the photo where they're surrounded) and are now evading the law. In one quick sequence, we see Hank shrinking an entire office building to the size of a piece of rollaway luggage. I have some concerns and questions about the structure of that building, especially with regards to plumbing and electricity, not to mention the fact that everything inside that building is going to get tossed around as soon as it tilts on its side. But I digress.
For some reason, it looks like Scott Lang is wearing a robe and flip flops in this scene. That makes it difficult to pinpoint exactly when this scene takes place. Scott doesn't have his anklet on yet, so maybe this is earlier in the movie before the FBI catch on to them. After all, the van Hank is taking that building to is the same one in the scene where they're surrounded in the middle of a field.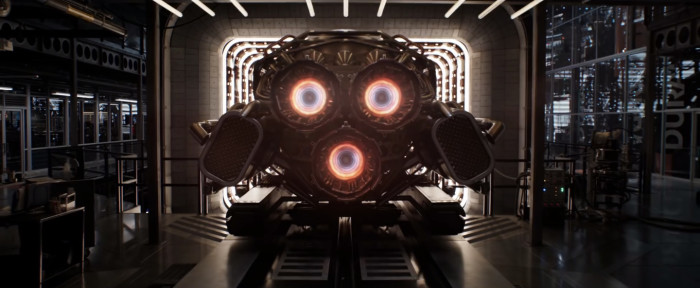 Then there are some shots of lab sequences. This shot shows some kind of machine with what appear to be engines on the back of it. A later shot keys us into what this vessel might be, but we'll get to that later. Also, did anyone notice the text on the right side? That's clearly the Duracell logo, and that's something else that might make a little more sense once we see what this vehicle is doing later in the trailer.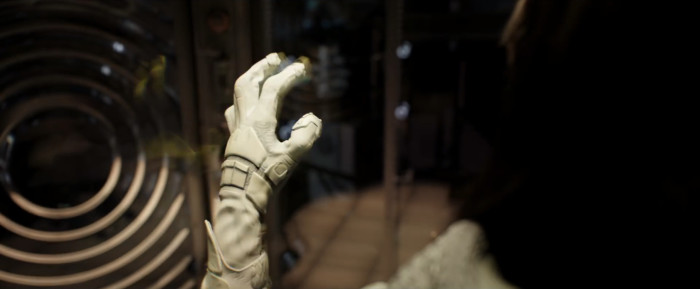 There are a couple quick shots inside a laboratory with a mysterious, white suited person inside of some kind of glass containment room with energy waves pulsing around them. Who is this mysterious character? We'll get to that later.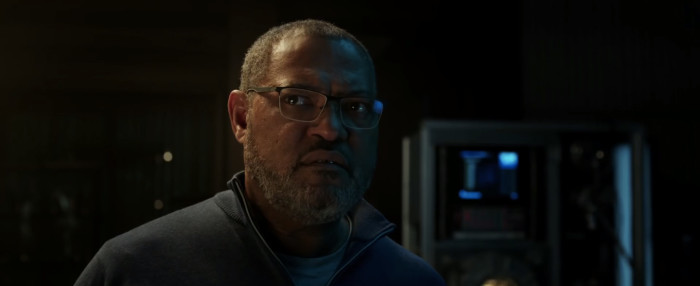 Here's our first look at Laurence Fishburne as Dr. Bill Foster. In the comics, Bill Foster is an ally to Hank Pym, helping him deal with an incident where a growing serum had the original Ant-Man stuck at 10-feet tall. By helping Pym, Foster became acquainted with Pym Particles and figured out how to inject his own body with them, giving him the ability to change the size of his body without needing a specialized suit. He used his abilities to fight crime as a hero named Black Goliath.
Now we're not sure what Foster's role in this movie will be, but it appears he's present in whatever is happening with that white-suited figure in the lab. Perhaps since Foster was a biochemist who worked with Pym, the villain of our story is employing his knowledge in their own science research and experiments in an attempt to create a specialized suit of their own, but not one that changes his size. More on that later.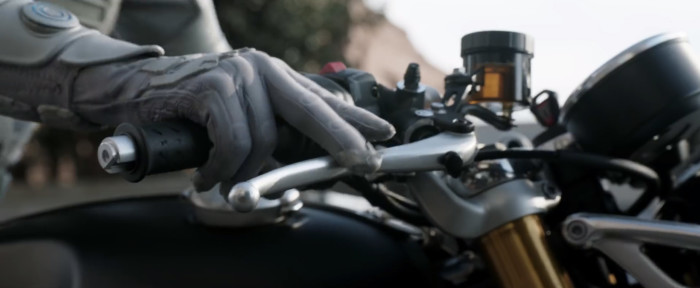 Speaking of that mysterious suited person, here's their glove again, this time at the control of a motorcycle. We're not sure what the ties are between this character and the motorcycle gang that appears to be involved in a chase through the streets of San Francisco in the trailer, but it should make for an interesting action sequence.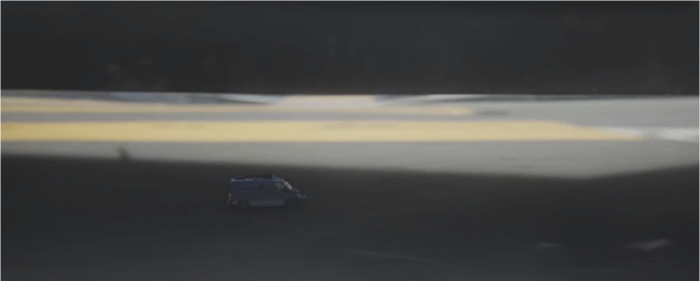 Making it especially interesting is the fact that the van that Hope and Hank have been driving around in apparently has the ability to shrink. They're really using this technology as often as they can, almost recklessly. While this will undoubtedly be a cool chase, I'm not sure that the physics employed make sense. Once the van grows back to normal size, I'm pretty sure there would be some significant damage done to the roof rather than it easily launching the car above it into the air. Sure, we're being nitpicky about a comic book movie, but we're just saying!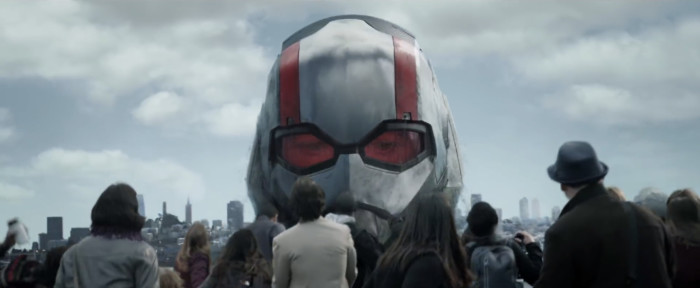 Of course, we're not just going to see things shrinking throughout this entire movie. Now that we know Ant-Man has the ability to become Giant-Man, that power has to make a comeback. Here, Scott is seen growing in size next to a ferry, presumably in the San Francisco Bay. People look on in shock, and this might be the biggest Giant Man has gotten.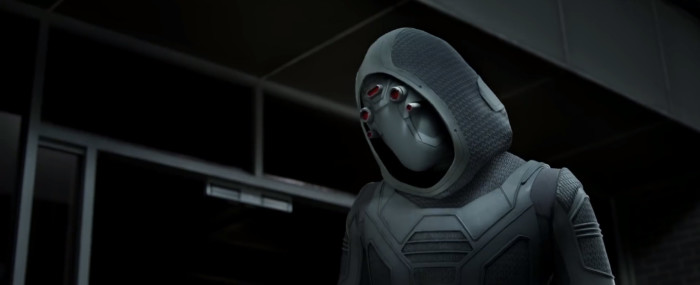 All right, we've teased the villain enough, so here they are. That's Ghost. In the comics, Ghost is an expert hacker and data engineer who created GhostTech, a series of computer chips that phased into an intangible state before overheating, yet could still function in this state and hold an incredible amount of data. After being betrayed by his employers, he infused his body with GhostTech, giving him a a cyberpathic connection with the company's systems that allowed him to phase shift his entire body, becoming intangible and giving him the ability to move through objects and also make them intangible too.
In the movie, Ghost is played by Hannah John-Kamen (Game of Thrones, Star Wars: The Force Awakens), though we're not entirely sure what her motivation is in the movie, and we don't exactly see her in action in this trailer. Those details will have to be revealed further down the road. However, let's not forget that Scott went to jail for corporate whistleblowing, so maybe this character was wronged by his actions and wants revenge.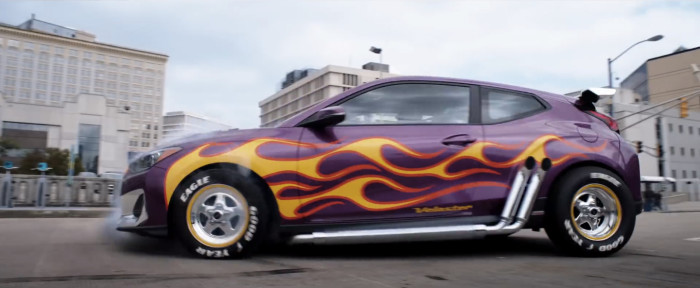 Hey, check out that slick ride. Surely that must belong to Luis. Not only does it fit his personality, but we see him running away from the car later in the trailer. For those curious, that's the 2019 Hyundai Veloster, making its first appearance in the Marvel Cinematic Universe. Apparently it's not the only new Hyundai vehicle being introduced in the movie.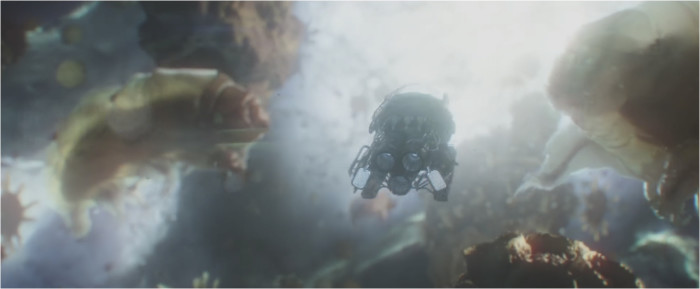 Remember that vessel we saw earlier? Here it is floating in what appears to be the atomic level. Is this in someone's body? Is this merely the quantum realm where Hope Van Dyne's mother is believed to have been lost? We know Michelle Pfeiffer is playing Janet Van Dyne in this movie, and this sequence could be where they find her.  Remember when we mentioned that giant Duracell logo? Maybe it's not giant at all, but a small battery used to power this vessel when it's really small.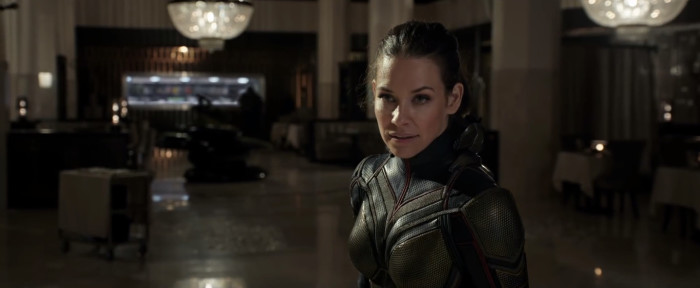 Can we just take a moment to recognize how badass Evangeline Lilly looks in this movie? She shows off some of her fighting moves in the middle of this lobby, even using blasters she has at her disposal.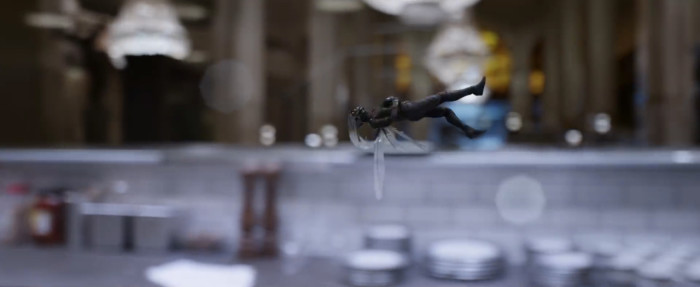 Her kick-ass action continues in a kitchen where she shrinks and flies through the air, flipping around as a henchman throws knives at her. Hope runs off one of the knives in a Matrix style move.
Finally, the final shot of the Ant-Man and the Wasp trailer continues to show Team Pym being a little reckless with their technology. In the middle of a busy city street, Hope uses one of their little size grenades to enlarge a Hello Kitty Pez dispenser to thwart a henchman on a motorcycle. When the Thomas the Tank Engine toy was blown up in the first movie, it was an accident, but this was done on purpose, and it's certainly not helping them keep a low profile!
***
Anyway, that's all the details we could glean from the Ant-Man and the Wasp trailer. Since the movie doesn't hit theaters until July 6, 2018, we've got plenty of time to learn more about the movie, so stay tuned to learn more details about the Marvel sequel.