'On My Block' Trailer: Netflix's Charming Teen Comedy Series From 'Awkward' Creator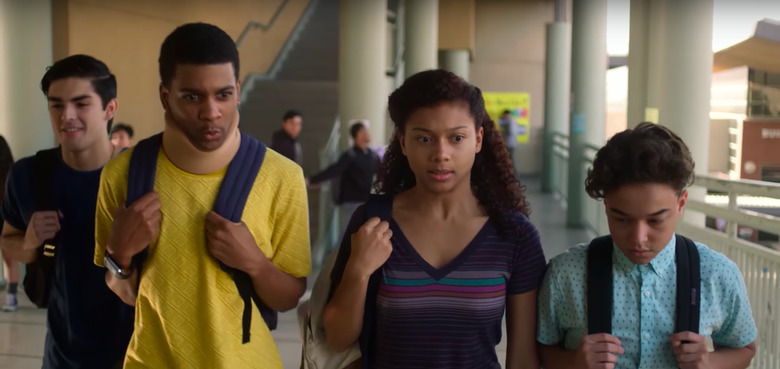 Mark your calendars for yet another Netflix series, the latest in what will be a surge of original series and movies after the streaming service allocated $8 billion to the production of Netflix originals.
This week, it's On My Block, a coming-of-age comedy from the creator of the popular MTV high school comedy Awkward. On My Block takes the same premise — social outcasts who try their best to survive high school — but transplants it to an inner city public school. Though it deals with some darker matters, On My Block looks just as irreverent and light-hearted as its MTV predecessor.
On My Block Trailer
"High School is the foundation for the rest of your life. There's only one chance at a first impression, so work hard. Put your heart out there. And don't go in to high school without back-up."
With that pep talk, the street-savvy band of outcasts Cesar, Ruby, Monse, and Jamal, attempt to navigate high school, and all the growing pains that come with it. But unlike Awkward, On My Block has an undercurrent of social anxiety, with the 10-episode series set in a predominantly Hispanic and African American part of South Central L.A. There's a storyline where the troubled Cesar wrestles with gun violence, an O.J. Simpson joke — you get the gist. But the series seems intent on keeping itself as light-hearted as possible, with rapid-fire dialogue and stylistic quirks. And the characters seem as warm as they are "dysfunctional," as they declare themselves.
On My Block stars Diego Tinoco (Teen Wolf) as Cesar, Jason Genao  (Netflix's The Get Down) as Ruby, Sierra Capri as Monse, Brett Gray as Jamal, Ronnie Hawk as Olivia, and Jessica Marie Garcia  (Disney's Liv and Maddie) as Jasmin.
Here is the official synopsis for On My Block:
On My Block, co-created by Lauren Iungerich (creator of Awkward) and Eddie Gonzalez & Jeremy Haft, is a coming of age comedy about four bright and street-savvy friends navigating their way through the triumph, pain and the newness of high-school set in the rough inner city.
On My Block will premiere on Netflix on March 16, 2018.