'The Rhythm Section' Halts Production After Star Blake Lively Injures Hand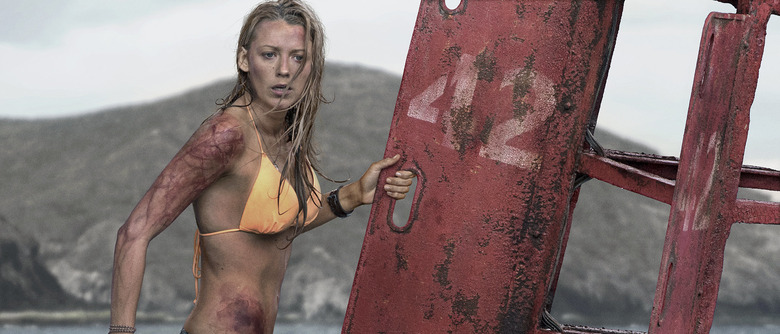 The Rhythm Section is temporarily halting production after star Blake Lively sustained a hand injury on set.
The 2019 spy thriller, directed by Handmaid's Tale director Reed Morano (who is definitely not making a Star Wars movie), may have to delay production for up to five months after Lively injured her hand in December and underwent an unsuccessful surgery to remedy the problem. Now, Lively may have to undergo a second hand injury and require more time to recover.
According to The Hollywood Reporter, Lively injured her hand while performing a stunt on set. After an initial surgery didn't go as planned, sources say that Lively will need a second surgery and a longer recovery time, which puts into question when production can recommence.
Morano, who has recently been the source of much buzz after collecting an Emmy for her work on The Handmaid's Tale and holding a mysterious meeting with Lucasfilm President Kathleen Kennedy, told THR:
"[Lively's] okay. She's just recovering. The problem is that normally, that kind of an injury, you would have four to six weeks of rehab and then you would wear a splint. We have to go into stunts, so it's very complicated."
The Rhythm Section is based on the Stephanie Patrick book series by Mark Burnell. The spy novels follow a woman who sets out to discover who was responsible for a plane crash that killed her entire family. The movie also stars Jude Law and is intended to be the first in a franchise of spy films from James Bond series producers Michael Wilson and Barbara Broccoli. Not much else is known about the film except for the wide array of wigs that Lively will don as Stephanie Patrick, which the actress has been cheerfully sharing on her Instagram.
Before this photo, I was one of those people who was convinced I don't have a "mirror face"????. (You all know who you are ???? cheers to denying our vanity! ????) #TheRhythmSectionMovie
???? #TheRhythmSectionMovie A post shared by Blake Lively (@blakelively) on Jan 14, 2018 at 2:30pm PST
Sources told THR that about half of the movie has been shot, but Lively's injury could push production back another five months. Maybe Lively can get some recovery tips from Tom Cruise, whose death-defying stunts led him to suffer a horrendous ankle injury that delayed filming of Mission: Impossible – Fallout for months. But the actor was back on his feet and soon posting more photos of his daring stunts.
For now, The Rhythm Section is aiming for release on February 22, 2019.