'Deep Blue Sea 2' Trailer Unleashes Remote Control Sharks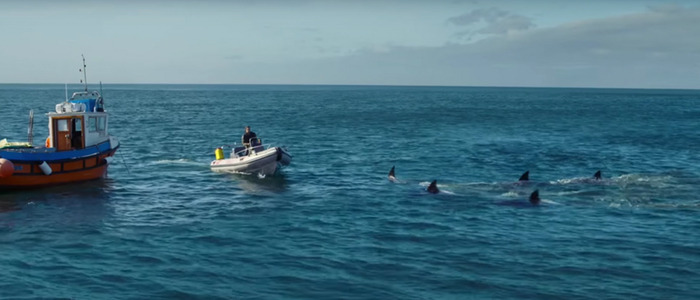 Remember Deep Blue Sea? The 1999 movie starring Samuel L. Jackson and some super-smart sharks? Well, there is now a Deep Blue Sea 2, with even more super-smart shark action to sink your jaws into, courtesy of Syfy. If you think this is a joke, check out the Deep Blue Sea 2 trailer below.
In 1999, the film Deep Blue Sea introduced us to the immortal words, "my hat is like a shark's fin." Now, almost 20 years later, here comes Deep Blue Sea 2, the highly-anticipated follow-up film that asks the question, "What if sharks could swim backwards?" I don't think any of us expected this, but here we are. The Deep Blue Sea 2 trailer must be seen to be believed.
Deep Blue Sea 2 trailer
I could be wrong, but I'm almost positive there's a scene in this trailer where some guy controls a school of sharks with a remote control. That's extremely my shit, so I'll be seeing this. Here's the Deep Blue Sea 2 synopsis:
In Deep Blue Sea 2, shark conservationist Dr. Misty Calhoun (Danielle Savre) is invited to consult on a new, top secret project run by pharmaceutical billionaire Carl Durant (Michael Beach). When science meddles with the time-tested process of nature and nurture, the outcome can be deadly.
The original Deep Blue Sea, directed by Cliffhanger filmmaker Renny Harlin, was surprisingly fun, in a dumb sort of way. Part of what made it so entertaining was how surprising it all was. For instance (warning: spoilers for a 19-year-old movie), while Samuel L. Jackson was featured prominently in all the advertising of the film, his character meets a shark-based demise rather early in the film, right as he's about to give a big, rousing speech. I'm actually somewhat surprised it took so much time to drop a Deep Blue Sea sequel into the direct-to-VOD waters; the popularity of the seemingly endless Sharknado series, as well as 2016's The Shallows, proves that the sharksploitation sub-genre has never gone out of style.
Will Deep Blue Sea 2 be as entertaining as the original film? I'm going to go out on a limb and say, probably not! Still, the overall concept – meddlesome scientists genetically altering sharks, with deadly results – is silly and solid enough to inspire plenty of shark-based mayhem. Also, at some point, someone's hat may indeed be like a shark's fin.
Deep Blue Sea 2 comes courtesy of director Darin Scott, who helmed the 1998 film Caught Up, and some TV movie called A Housekeeper's Revenge, which I'm sure is just amazing.
Look for Deep Blue Sea 2 in July 2018.