Poptheatr Lets You Watch Movies With Your Head In A Bag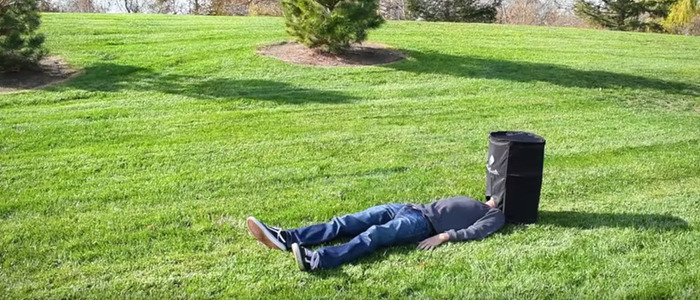 If you like watching movies but long for a cinema experience that's similar to being encased in a body bag, you might want to check out Poptheatr, a Kickstarter project that strives to provide the user with a distraction-free movie viewing experience in the comfort of your own home. With a big bag on your head.
I love movies, but going to the movies has become a chore. From poor projection quality to fellow moviegoers who just can't shut the heck up or put their phones away, the cinematic experience has been greatly diminished. If you feel the same way that I do about the sad state of modern moviegoing, perhaps Poptheatr can help. Here's how the official Poptheatr Kickstarter page explains their product:
Poptheatr is your own private theater that provides you with a comfortable, personal viewing experience when watching on your mobile device. No longer will you face distractions and constant discomfort when you could be enjoying your movie or show to the fullest extent.
If you're having trouble picturing just how this works, here, watch this video.
Honestly, this product seems like a must-have for me. It combines two of my favorite activities: watching movies and laying perfectly still on my back like a corpse in a coffin. Throw in a huge collapsable bag-bucket for your head and you can't go wrong. While Poptheatr may seem slightly strange, a theater experience by way of a VR headset may be the wave of the future. Recently, Paramount created a completely virtual movie theater, which simulates the experience of going to the movies from the comfort of your VR set-up. Tom Hayes, Paramount's Senior Vice President of New Media, says this could become more common:
"Paramount wants to be where the consumers are and the media landscape is changing and we want to be as vanguard as possible. We have to make the theaters a bigger and better experience. Jim G [Paramount chairman and CEO Jim Gianopulos] is a progressive thinker, and we want to get out front and see where audiences want to go. There is quite a cultural difference between high-tech and Hollywood. Here we are testing something that is a page turner in the history of media."
The Paramount virtual theaters are a bit more sophisticated than Poptheatr – a product that involves little more than setting your smart phone up inside the bag that you then stick your head into, but an early pledge of $54 will land you one of these babies, which is a bit of a deal, since the suggest retail price is $119. In other words, act now if you, too, would like to encase your head in a bag.