Sam Raimi Will Direct Lin-Manuel Miranda's 'Kingkiller Chronicle' Adaptation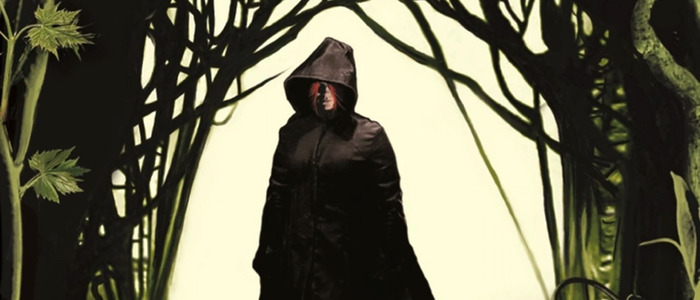 Evil Dead director Sam Raimi is teaming with Hamilton's Lin-Manuel Miranda for a big screen adaptation of Patrick Rothfuss' The Kingkiller Chronicle. Raimi will direct the film, with Miranda producing and writing music for the project. This is part of a multiplatform deal that will develop Rothfuss' book series for film, television, and video games. More on the Kingkiller Chronicle director news below.
A team-up between Evil Dead and Spider-Man director Sam Raimi and Hamilton's Lin-Manuel Miranda may have seemed unlikely before, but now it's happening thanks to Pat Rothfuss' The Kingkiller Chronicle. Variety reports that Raimi is in negotiations to direct the first film in the proposed series, inspired by Rothfuss' fantasy series. Should Raimi officially join the project, he'll be working alongside Miranda, the Pulitzer Prize-winning mastermind behind Hamilton. Miranda was hired by Lionsgate in 2016 to serve as a "creative producer" and write music and original songs for the project.
The Kingkiller Chronicle currently consists of two books, The Name of the Wind and The Wise Man's Fear, with a third book planned but not yet published. The fantasy series focuses on Kvothe, an adventurer and famous musician (thus the need for songs). Here's the official synopsis of the first book:
Told in Kvothe's own voice, this is the tale of the magically gifted young man who grows to be the most notorious wizard his world has ever seen. The intimate narrative of his childhood in a troupe of traveling players, his years spent as a near-feral orphan in a crime-ridden city, his daringly brazen yet successful bid to enter a legendary school of magic, and his life as a fugitive after the murder of a king form a gripping coming-of-age story unrivaled in recent literature.
Lionsgate signed a multiplatform deal which will develop Rothfuss' books  simultaneously for film, television, and video games. This includes an already-in-development TV series at Showtime. The Showtime series, described as ""a subversive origin story of legendary proportions set a generation before the events of the trilogy's first novel," will serve as a prequel for the overall story. Miranda will executive produce and compose music for the series.
Lindsey Beer, who was a co-writer on Transformers: The Last Knight, is penning the script for the first Raimi-directed film, which will adapt The Name of the Wind. This will mark Raimi's return to feature filmmaking after making 2013's Oz the Great and Powerful. Miranda, meanwhile, has a whole slew of projects on the horizon, including a film adaptation of his musical In The Heights and a co-starring role in Mary Poppins Returns. And sooner or later, I'm sure they'll get around to making a Hamilton movie.
I confess I haven't read The Kingkiller Chronicle series, but I have seen Hamilton on Broadway (twice), and I'm a big fan of Sam Raimi, so this combination seems too good to pass up.