Michael Haneke, Master Of Bad Feelings, Is Making A TV Show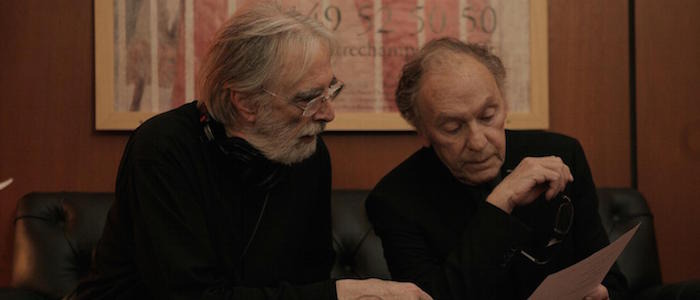 After 44 years of work, director Michael Haneke has mastered the art of making you feel drained and defeated over the course of an agonizing two-hour movie. And I mean that as high praise! The director of Funny Games, Caché, Amour, and The White Ribbon is the master of feel-bad cinema, telling stories that are generally free of hope and easy answers...and are made all the more powerful for it.
Now, the 75-year old German filmmaker is looking to make you feel a lingering sense of dread in the pit of your stomach for a much longer period of time. He's bringing his skill sets to television with a new show titled Kelvin's Book.
Deadline reports that Haneke is teaming up with FremantleMedia (the company behind American Gods and The Young Pope) and UFA Fiction for the series, which doesn't have a network to call home yet. However, Haneke is a two-time Palme d'Or winner, a two-time Oscar nominee, and one of the most respected directors on the world stage. Someone will pick this show up. This is not Haneke's first foray into television (he has directed numerous TV movies since his career began in the '70s), but this will be the first show he personally creates.
"After ten TV movies and 12 films, I wanted to tell a longer story for once," Haneke said, a statement that sends a chill down my spine in the best way possible. I cannot wait for this series to make me want to jump off a tall building by episode three! (Once again, I mean this as high praise.)
Here's how Deadline describes the plot of Kelvin's Book:
The English language, ten-part, high concept series is set in a dystopian world and will tell the adventurous story of a group of young people in a not too distant future. During a flight, they are forced to make an emergency landing outside of their home and are confronted with the actual face of their home country for the first time.
So it sounds like Haneke will have 10 hours to tell this story, which sounds appropriately bleak and unsetting. The news that Kelvin's Book will be in English is also telling. The last time Haneke made a film entirely in English (his 2007 remake of Funny Games, a shot-for-shot re-do of his own 1997 original), he seemed determined to impart a harsh and brutal message to American audiences. Be prepared for a disquieting journey, everyone.
Also of note: this is not the first time a Haneke film has been tinged with science fiction. His 2003 film Time of the Wolf is a post-apocalyptic horror movie that is downright draining to watch. The "dystopian world" of Kelvin's Book will probably follow suit.
Haneke is the latest prestige filmmaker to journey into the world of television. Considering what David Lynch got away with at Showtime with his Twin Peaks revival, we should brace ourselves for what Haneke can do on the small screen. It's going to hurt.