Here Are The Movie Trailers That Could Air During The 2018 Super Bowl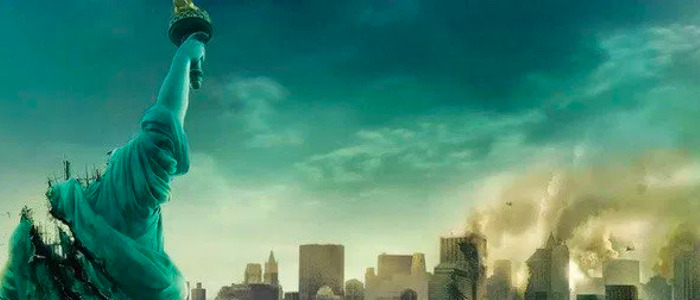 Everyone knows what they watch the Super Bowl to see — and it's certainly not the football. It's the commercials! Whether dancing puppy monkey babies are more your speed, or the latest trailer for Stranger Things, the Super Bowl has become one of the most anticipated pop culture events of the year for non-sports fans. Maybe that's because the cost of a 30-second commercial aired during the primetime sport event could exceed $5 million — about the same as the budget for many independent films. So it's exciting to just see what the overwhelmingly wealthy studios and advertising companies will shell out for a chance to be seen by 100 million eyes. Corporate culture at its finest.
Here are some of the 2018 Super Bowl movie trailers we're expecting to see later this week.
What to Expect
Cloverfield SequelDeadline is reporting that we could possibly see the first trailer for the untitled Cloverfield sequel, formerly known as God Particle. The science-fiction film directed by Julius Onah and starring David Oyelowo, Elizabeth Debicki, Daniel Bruhl, Gugu Mbatha Raw, Chris O'Dowd, and Ziyi Zhang has had a troubled journey to the big screen, and it may not make it to theaters at all. Netflix is reportedly in talks to buy the movie from Paramount, which could set its release date before the previously announced April 20 theatrical release. Netflix made waves last year when it released its Stranger Things 2 trailer during the Super Bowl, comandeering the pop culture conversation for weeks. It wouldn't be a surprise if they did so again with the third Cloverfield movie.Jurassic World: Fallen Kingdom and Skyscraper
Universal, whose sister network NBC is airing the football game, is expected to maintain its recurring Super Bowl presence with a new trailer for its huge tentpole sequel, Jurassic World: Fallen Kingdom (June 22), as well the Dwayne Johnson July 3 action romp Skyscraper. Yeah, in case you forgot, there are two Dwayne Johnson blockbusters out this summer.
Mission: Impossible – Fallout
Paramount has been slowly teasing Mission: Impossible – Fallout, the sixth movie in Tom Cruise's spy thriller franchise, through terrifying pics of Cruise's latest derring-do. It's confirmed that the studio has scheduled a 30-second spot during the Pre-game and another during the last half hour. One of those slots will go to Mission: Impossible – Fallout, while the other will go to the John Krasinski-helmed horror thriller A Quiet Place.
Black Panther, Avengers: Infinity War
Expect Disney to have a huge presence at the Super Bowl, with at least a few Black Panther-Lexus cross-promotional commercials. The Marvel Studios film is one of the most anticipated movies of the year, with industry analysts estimating a record-breaking $120-$150 million opening weekend.
With two slots (30-second and 45-second) allocated to Disney, it's also possible that the studio will run an Avengers: Infinity War commercial as well, though the May 14 superhero movie has yet to break out the full-on marketing deluge like the soon-to-be-released Black Panther. A dark horse candidate for that second slot is Ant-Man and the Wasp, which is out July 6 and still without a trailer.
Possibilities:
Solo: A Star Wars Story, A Wrinkle in Time, The Incredibles 2
The big question is whether Disney will release a trailer for Solo: A Star Wars Story. It's less than five months until the sci-fi juggernaut is set to hit theaters, and yet we haven't seen a peep out of its marketing department other than a title reveal. It's possible that Disney is waiting until a big event like the Super Bowl to reveal the trailer.
Other possibilities include Disney's A Wrinkle in Time and The Incredibles 2, though there are only so many slots that even the endlessly powerful studio can afford.
Sitting Out:
Warner Bros., Sony and Fox
Warner Bros. has traditionally sat out on the Super Bowl, and it looks like the studio will maintain that streak. Sony aired trailers for the Ryan Reynolds-Jake Gyllenhaal sci-fi horror flick Life last year, but won't make an appearance this year. And 20th Century Fox, which last year debuted spots for A Cure for Wellness and Logan, likely won't be airing spots this year.
Super Bowl LII will air on NBC on February 4, 2018 at 12:30 p.m. EST/3:30 p.m. PST.