College Course Inspired By 'Get Out' Is Now Open To The Public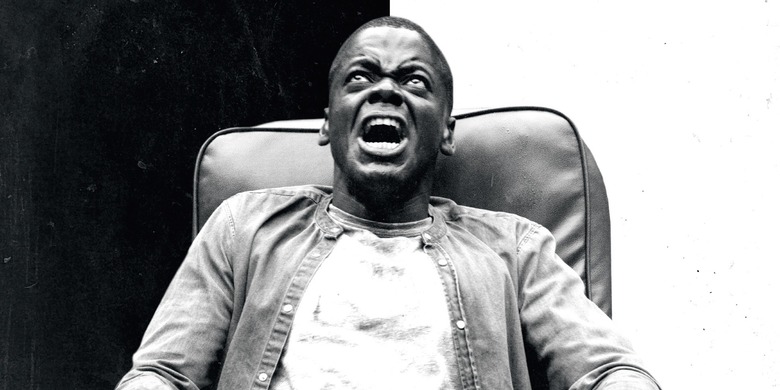 Regular movies tend to come and go, but Jordan Peele's astonishing directorial debut, the four-time Oscar nominated Get Out, is more than just a regular movie. It's a cultural touchstone with imagery that instantly became iconic, a deeply layered satire, and an exploration of race and relationships that has made an indelible impact on the world in the year since it debuted.
You may remember seeing that the film inspired a college course last year (Peele himself famously dropped in once while class was in session), and now the people who teach that course have opened it up to the general public. Read more about the Get Out college course below.
io9 spoke with Professor Tananarive Due and her author husband Steven Barnes, the minds behind The Sunken Place: Racism, Survival, and Black Horror, who were inspired by Get Out to teach these subjects to students in a framework they can relate to. "There are conversations that are happening now in 2018 concerning race that have never been happening in the history of this country, thanks to Get Out," Barnes said. "There is an opening for artists right now. If you're willing to speak a dangerous truth, and you've got the skill to do it right, there is real opportunity."
Due and Barnes have moved the class from UCLA onto the internet, and while there won't be any exams or graded essays, Due says she'll still expect students to follow along with homework: most of which consists of watching movies and reading short stories. "It's an overview course, where the lynchpin is Get Out," she said. "Because Get Out — not only because of its success — gives us a common point of conversation, and encompasses to much of what I call the black horror aesthetic. Which is using that allegory as a way of processing everything from slavery, to white supremacy and whatever racialized trauma."
Peele and Candyman star Tony Todd are on the docket to be involved with the class in some capacity, and the class comes with a virtual screenwriting workshop and tips on how to break into the entertainment industry "even if you have no resources or connections," so it sounds like this might be a cool opportunity for aspiring writers out there.
Technically, the class began earlier this month, but you can still sign up for it right here and catch up with the previous lectures through replays. If you're on the fence, I'd encourage you to head to io9 to read more from their extensive interviews with Due and Barnes.