The 'Mohawk' Trailer Offers Up Historic Horror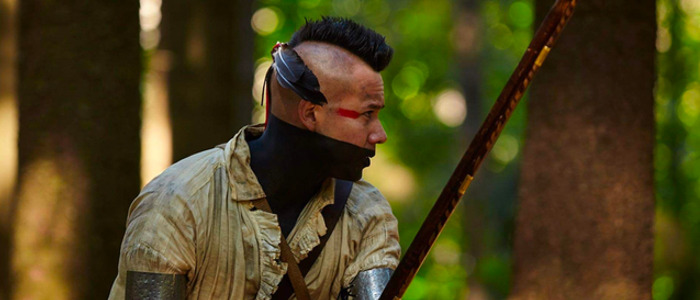 Mohawk, the second film from We Are Still Here director Ted Geoghegan, has unleashed a brand new trailer, and it looks particularly promising. The film is set against the backdrop of the War of 1812, and follows a young Mohawk warrior turning the tables on the American soldiers pursuing her. Much bloodshed follows. Watch the Mohawk trailer below.
I was a big fan of Ted Geoghegan's bloody haunted house flick We Are Still Here, and have been eagerly awaiting his follow-up, Mohawk. After a lengthy festival run (where I managed to constantly miss it), Mohawk will finally be released this year, and there's a new trailer to prove it. Based on this trailer, the wait has been worth it. Check it out.
Watch the Mohawk Trailer 
Mohawk stars Kaniehtiio Horn (Hemlock Grove), Justin Rain (Fear the Walking Dead), and Eamon Farren (Twin Peaks: The Return) along with Noah Segan (Looper), Jonathan Huber (from the WWE), Robert Longstreet (I Don't Feel at Home in this World Anymore), and Sheri Foster (Unbreakable Kimmy Schmidt). Geoghegan co-wrote the script with Grady Hendrix. Here's the synopsis:
After one of her tribe sets an American camp ablaze, a young 

Mohawk

 warrior finds herself pursued by a contingent of military renegades set on revenge. Fleeing deep into the woods they call home, Oak and Calvin, along with their British companion Joshua, must now fight back against the bloodthirsty Colonel Holt and his soldiers – using every resource both real and supernatural that the winding forest can offer.
Reviewing Mohawk for /Film, Scott Beggs offered praise for the film, while confessing that some budget limitations caused an issue or two:
"Fresh from his ghostly triumph We Are Still Here, writer/director Ted Geoghegan finds himself combing the woods for a different kind of horror with Mohawk. One part revenge thriller, one part historical drama, one part home invasion where the United States is the home being invaded, this ambitious indie project delivers a spark of real-world tragedy yet falls prey to its low budget limitations...Mohawk must be praised for its appetite. There's a reason that historical fiction commands a huge budget, and it's a good thing Geoghegan didn't listen to that conventional wisdom. He's crafted a tonal hybrid that's captivating and vicious, fearful and cheer-worthy."
Mohawk opens on VOD and HD Digital March 2, 2018, and will play theatrical engagements at the following theaters:
Nitehawk Cinema, Brooklyn, NY
Laemmle Music Hall, Los Angeles, CA
The Palace Theater, Syracuse, NY
Alamo Drafthouse Omaha, Omaha, NE
Capitol Theater, Cleveland, OH
Charlotte Film Society, Charlotte, NC
PhilaMOCA, Philadelphia, PA
Gateway, Columbus, OH
Coolidge Corner, Boston, MA