'Ready Player One' TV Spot: Welcome To The Rebellion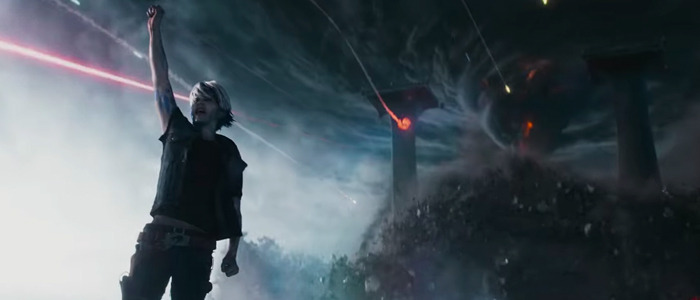 Are you ready for Steven Spielberg's return to science fiction? Not counting the alien subplot of Indiana Jones and the Kingdom of the Crystal Skull, this year's Ready Player One will mark the first time The Beard will step back in sci-fi waters since 2005's War of the Worlds. And as you can see in this newly-released TV spot for the movie, it seems like there's a whole new war of the worlds brewing inside a virtual reality platform called the Oasis.
Check out the new Ready Player One TV spot below.
Ready Player One TV spot
There's a few snatches of new footage in here that we haven't seen in the previous trailers or featurettes. The rousing speech we hear in voiceover comes from Wade Watts (X-Men: Apocalypse star Tye Sheridan), who goes by the virtual reality alias "Parzival." He's on a quest for an easter egg that will grant him ownership of the entire Oasis, hidden somewhere in the virtual world by its enigmatic creator James Halliday (Mark Rylance). But Wade's not the only one on the hunt: as the rest of the virtual world tries to locate the egg, a greedy corporate villain (Ben Mendelsohn) organizes an army to track it down, and the two sides eventually clash in the expansive war sequences we see in this TV spot. And they're all decked out in their customizable avatars, of course – many of which are ripped straight out of pop culture from the 1980s to today. (Is...is that Voltron making an appearance at the :11 second mark?)
In any case, this looks like the biggest movie Spielberg has made in ages, and it's no wonder it's taken him over a year to push this beast through post-production (during that time, he decided to bang out a whole other movie that happened to be pretty damn good). Here's the synopsis:
The film is set in 2045, with the world on the brink of chaos and collapse. But the people have found salvation in the OASIS, an expansive virtual reality universe created by the brilliant and eccentric James Halliday (Mark Rylance). When Halliday dies, he leaves his immense fortune to the first person to find a digital Easter egg he has hidden somewhere in the OASIS, sparking a contest that grips the entire world. When an unlikely young hero named Wade Watts (Tye Sheridan) decides to join the contest, he is hurled into a breakneck, reality-bending treasure hunt through a fantastical universe of mystery, discovery and danger.
Ready Player One blasts into theaters on March 29, 2018.