'The Hurricane Heist' Trailer: The Absurdly Awesome Weather B-Movie You've Been Waiting For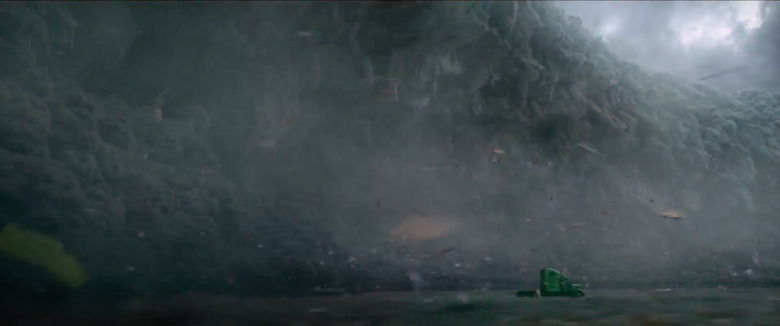 Yes, this is a movie called The Hurricane Heist, emphasis on the added importance of "The." Yes, it stars Maggie Grace as a tough FBI agent doing her best Charlize Theron impression, while Toby Kebbell puts on a vaguely Southern accent as a meteorologist who's afraid of hurricanes. And yes, the Scorpions' "Rock You Like a Hurricane" does start playing halfway through the trailer of this high-octane natural disaster B-movie. But no, sadly, this movie is not about the actual act of stealing hurricanes — though it is one step away from Nicholas Cage popping up to declare that he will — but about a heist that happens to take place during a deadly storm that forces the evacuation of an entire city.
The Hurricane Heist Trailer
The trailer originally premiered over at Collider.
Where do I even start? Aside from making me want to scream "BLARGHHH" and go outside to punch something, The Hurricane Heist looks like the trashy popcorn flick that I desperately wanted Geostorm to be. It's just this side of Twister without devolving too much into SyFy Sharknado territory — and that's awesome. Toby Kebbell has an armored vehicle that has anti-weather measures that burrow into concrete! Trucks are out-driving a Category 5 hurricane that seems to be inexplicably filled with dirt! Loose bills are flying everywhere! And most importantly, the movie poster's tagline is "MAKE IT RAIN."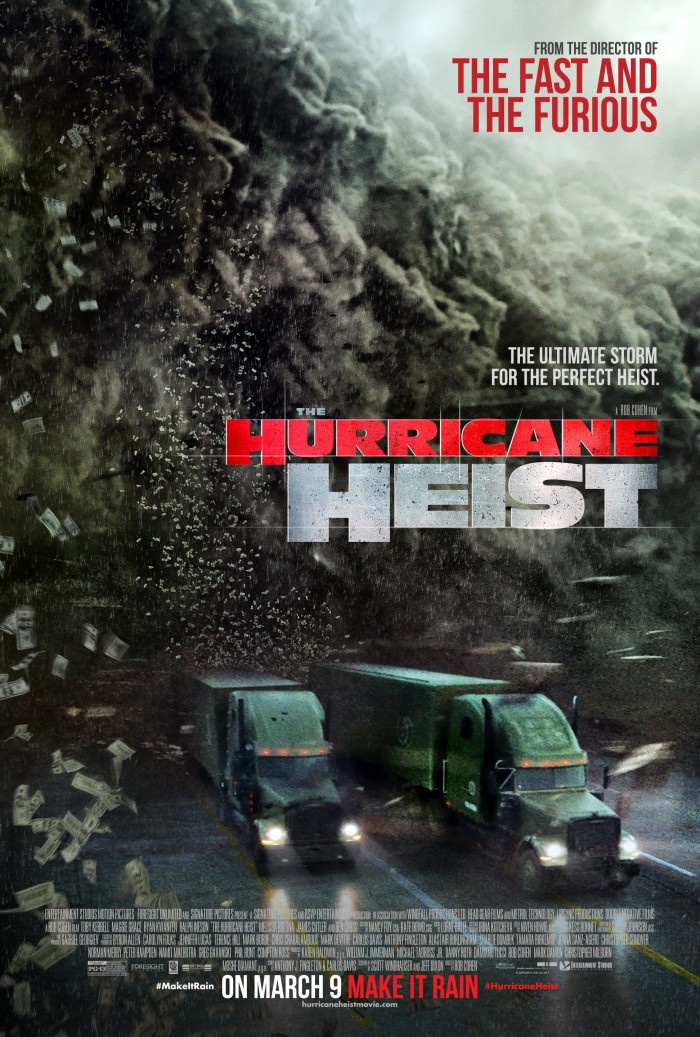 It's a cheap and tawdry disaster movie that features director Rob Cohen (of XxX and Fast and Furious fame) doing what he does best: stone-faced action heroes thrown against absurdly impossible odds. The Hurricane Heist looks absolutely bonkers, and you can bet that I will be first in line to see this with my MoviePass.
Here is the official synopsis for The Hurricane Heist below:
Under the threat of a hurricane, opportunistic criminals infiltrate a US Mint facility to steal $600 million for the ultimate heist. When the hurricane blows up into a lethal CATEGORY 5 storm and their well-made plans go awry, they find themselves needing a vault code known only by one Treasury Agent (Maggie Grace), a need that turns murderous. But the Treasury agent has picked up an unlikely ally, a meteorologist (Toby Kebbell) terrified of hurricanes but determined to save his estranged brother kidnapped by the thieves. He uses his knowledge of the storm as a weapon to win in this non-stop action thriller ride charged with adrenaline throughout.
Hurricane Heist is written by Jeff Dixon and Scott Windhauser. It also stars Ralph Ineson, Randy Couture, Melissa Bolona,Jamie Andrew Cutler and arrives in theaters on March 9, 2018.