'West Side Story' Remake Begins Casting But 'Indiana Jones 5' Comes First For Steven Spielberg [Updated]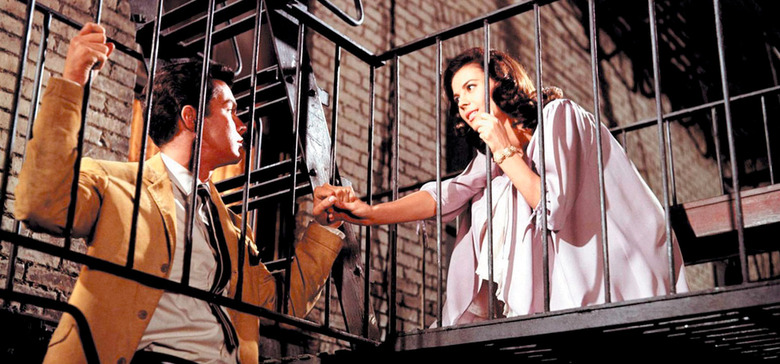 UPDATE: New details have surfaced indicating that Indiana Jones 5 will still be made before the remake of West Side Story. Get the new details at the end of the story.Steven Spielberg just delivered the Best Picture nominee The Post at the end of 2017, and in a couple months we'll see his latest blockbuster hit the big screen in the form of the adaptation of Ready Player One (find out more about that movie here). After that, it appears Steven Spielberg is going to tackle something he hasn't before: a musical.
For a few years, there have been rumblings of Spielberg wanting to remake the classic big screen musical West Side Story, which won 10 statuettes at the Oscars after debuting in 1961. More recently, it sounded like Spielberg was going to choose between a remake of the classic musical and the new Indiana Jones sequel for his next project, and it seems like his choice has been made.
Broadway World was first to report on news that casting was underway for West Side Story, and then this surfaced:
Exciting Harris/Kushner household news: Something's coming. Something good. (h/t @marciliroff) pic.twitter.com/IlCV4VnGt6

— Mark Harris (@MarkHarrisNYC) January 26, 2018
As you can see, this poster, which calls back to the original art for the theatrical poster for the 1961 film, is a casting call for the West Side Story remake. Steven Spielberg is listed on the poster as director and Tony Kushner (Munich, Lincoln) is still on board as writer (Mark Harris, the entertainment reporter who shared the poster, is married to Kushner).
Furthermore, it would appear that Spielberg and his casting director Cindy Tolan are looking to cast more unknown actors for the four lead roles of Tony, Maria, Anita and Bernardo, originated by Richard Beymer, Natalie Wood, Rita Moreno and George Chakiris. As expected, they want Tony to be Caucasian and the other three leads to have a Hispanic background.
While the poster indicates the wider window of 15-25 years of age, Broadway World gets a little more specific, saying they're looking for Maria to be between 18 and 20, Tony to be between 18 and 23, and Bernardo and Anita to both be between 20 and 24. Since there aren't too many super-famous Hispanic actors around that age range, at least not in the United States, it's likely that whoever lands these roles will be getting a huge breakthrough.
While remaking West Side Story doesn't seem entirely necessary, the prospect of Spielberg being at the helm is an interesting one, especially after he executive produced the sadly ignored musical series Smash. In addition, considering that immigration is currently a hot button issue in the United States, there might be some more timely elements brought into this adaptation that will give the musical a modern spin.
With casting underway, it would appear Spielberg will be behind the camera for West Side Story sooner than later. What does that mean for Indiana Jones 5? Well, since the release date for the sequel is set for July 10, 2020, he probably won't be working on it until 2019, which is likely the year West Side Story will hit theaters, but that's just speculation on our part. Stay tuned for more updates as we learn more.
UPDATE: The Hollywood Reporter reveals that while casting is underway for West Side Story, it's only because "the project is contingent on finding the right cast."Apparently before making The Post, Spielberg had wanted to direct the period drama The Kidnapping of Edgardo Mortara, but finding the right actor to play the young Jewish boy who was taken away from his parents and raised Catholic in 1850s Italy proved to be a challenge and he ran out of time to make it happen. Spielberg doesn't want that to happen with West Side Story.
So Spielberg will make Indiana Jones 5 first in 2019 with the intention of hitting that aforementioned 2020 release date. They also note there's a chance he might do something small between now and the next Indiana Jones sequel, but that remains to be seen.