MoviePass Will No Longer Cover Certain AMC Theatres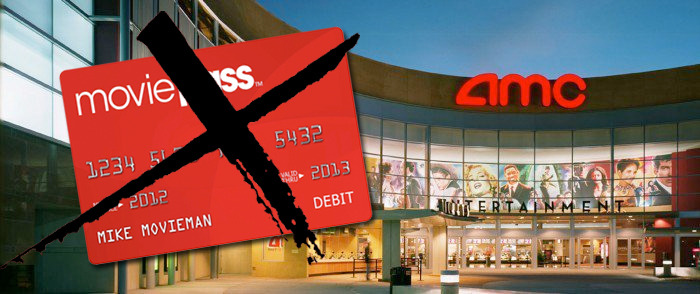 MoviePass, are you okay? The very popular subscription-based movie service has been doing really well for itself, raking in the dough while also expanding into acquiring films for distribution. But now there's a sudden bump in the road: MoviePass is no longer working with certain AMC Theatres, and it appears that this was a decision made by MoviePass, not AMC. Here's what we know about the outages at certain MoviePass locations.
For a while now, folks have been thinking MoviePass might be too good to be true, and a sudden hiccup in the service may prove this theory correct. Deadline reports that MoviePass is no longer working with certain AMC Theatres – MoviePass will no longer cover tickets at big market AMC theaters like the Empire 25 in New York City, the Universal City Walk, AMC Loews Boston Common and the AMC Century Plaza.
MoviePass CEO Mitch Lowe issued the following statement:
"As of today, you'll find a small handful of theaters are no longer available on our platform. Our number one goal as a company is to provide an accessible price-point for people to enjoy films the way they're meant to be seen: on the big screen. Many exhibitors have been receptive to this mission, and we're excited to keep working with theater chains that are closely aligned with our customer service values. As we continue to strive for mutually-beneficial relationships with theaters, the list of theaters we work with is subject to change. We advise customers to always double check the MoviePass app for the most up-to-date list of participating theaters."
MoviePass has had some issues in the past. When the service dropped its prices, inspiring an influx of sales, AMC expressed doubts. Yet this move to no longer cover certain AMC Theatres apparently doesn't come from AMC, but from MoviePass itself, as this Tweet from AMC seems to confirm.
Some of our guests say MoviePass may be blocking the use of their service at a handful of AMC locations. AMC has not restricted MoviePass acceptance at our theatres, nor have we heard from MoviePass about this. MoviePass customers should contact MoviePass for clarification.

— AMC Guest Services (@AMCHelps) January 25, 2018
This is all likely due to increased ticket prices. MoviePass stopped working at the AMC City Walk Theater at Universal Studios, Hollywood last year because ticket prices were too high. In other words, there's only so much money in ticket sales that MoviePass is willing to cover. Per Deadline, the subscription service covers $2 million in weekly ticket sales to AMC.
Meanwhile, MoviePass continues to chart new territory. After surpassing 1.5 million subscribers, MoviePass offered people a chance to win ten 12-month MoviePasses by simply attending a screening of I, Tonya. On top of that, MoviePass recently decided to move into the distribution game by purchasing movies. Just this week, they partnered with The Orchard to purchase American Animals at Sundance.