'Captain Marvel' First Look Features Brie Larson In A Power Rangers-Looking Costume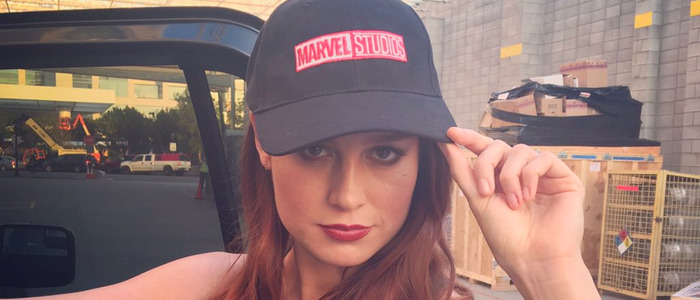 Brie Larson's first foray into the Marvel Cinematic Universe is currently filming, and the first look at the actress in her Captain Marvel costume has just popped-up online. The results are...surprising, and even a bit Power Ranger-ish. See the Captain Marvel first look below.
The first look at Brie Larson's Captain Marvel is here, courtesy of a set photograph. Take a gander.
See the first photos of Brie Larson as Captain Marvel https://t.co/M5PysAdUR7 pic.twitter.com/4FWoU8lTMX

— Page Six (@PageSix) January 25, 2018
The costume is a bit...underwhelming. Still, Brie Larson clearly looks like she's having a great time! Of course, it's worth noting this is an out-of-context set photograph – lighting and color correction will eventually make it look completely different. Still, it throws off a bit of a Power Rangers vibe that I wasn't expecting. The costume is also a completely different color than early concept art suggested – the color scheme here is black and green, whereas the concept art last seen at SDCC highlighted a blue and red costume. The traditional Captain Marvel costume is red and blue and gold, which might indicate this is an early prototype costume that Larson's character Carol Danvers wears before she adopts her final look. The same thing happened with the first Iron Man film, where Tony Stark wasn't sporting his traditional Iron Man suit until the third act.
Another possibility: in the comics, the original Captain Marvel before Danvers wore a green suit, so this could likely be a tribute to that. Jude Law was recently cast as the original Captain Marvel –  as character named Dr. Walter Lawson, one of Carol Danvers' co-workers in the comics who was actually secretly a Kree agent named Mar-Vell assuming Lawson's identity. Mar-Vell was the original Captain Marvel who passed his superpower-laced DNA onto Carol, helping her become a superhero. Here's a visual reference of that original green suit.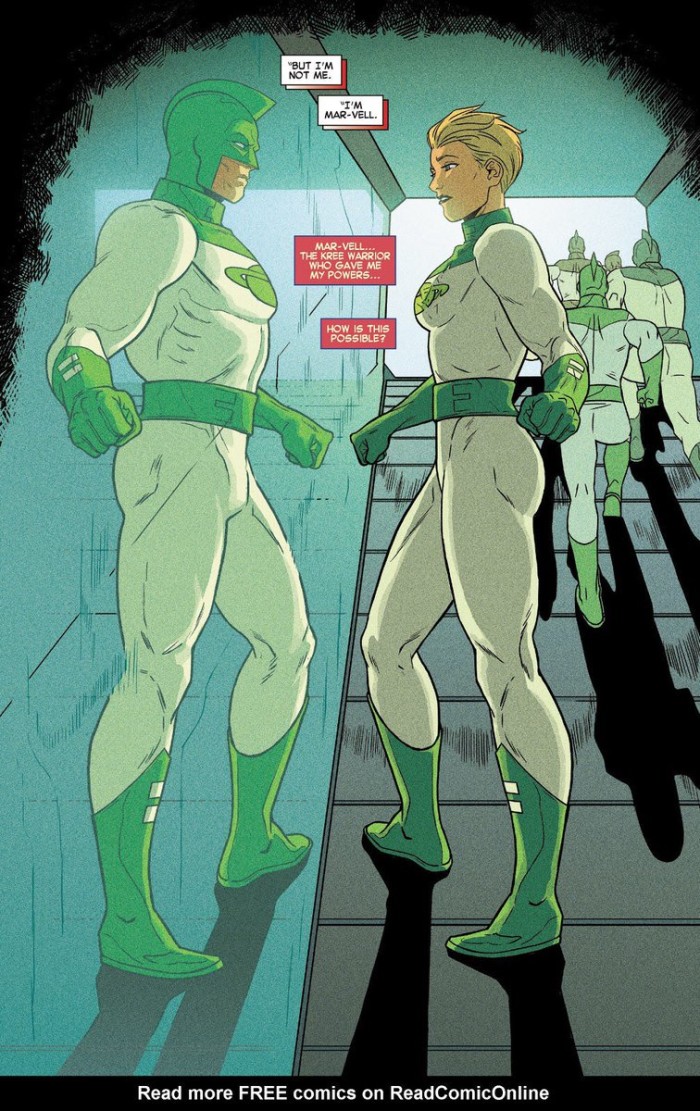 Someone has already used their Photoshop skills to change the costume to more traditional colors, and I have to admit: it looks a lot better.
Larson, meanwhile, is all-in on this role. The actress recently posted a photo of herself in Air Force gear with the caption "Learning how to fly."
Learning how to fly. pic.twitter.com/D7ivzXJOHs

— Brie Larson (@brielarson) January 23, 2018


Captain Marvel is helmed by Anna Boden and Ryan Fleck, directors of the indie film Mississippi Grind. In addition to Larson and Law, Mississippi Grind star and Hollywood's new go-to bad guy Ben Mendelsohn will be playing the film's villain. Samuel L. Jackson is also back once again as Nick Fury. Unlike the current slate of Marvel Cinematic Universe films, Captain Marvel is going to be a prequel of sorts, set in the '90s. Captain Marvel has been a long time coming in the MCU. Larson was official cast in the role in 2016, although rumor has it that Joss Whedon toyed with the idea of having the character make a brief cameo in Avengers: Age of Ultron, released in 2015.
As of now, Captain Marvel is due out March 6, 2019, but there are rumors we might see Larson in character before that with a cameo in Avengers: Infinity War.