'I Kill Giants' Trailer: Reality And Fantasy Blur In This Graphic Novel Adaptation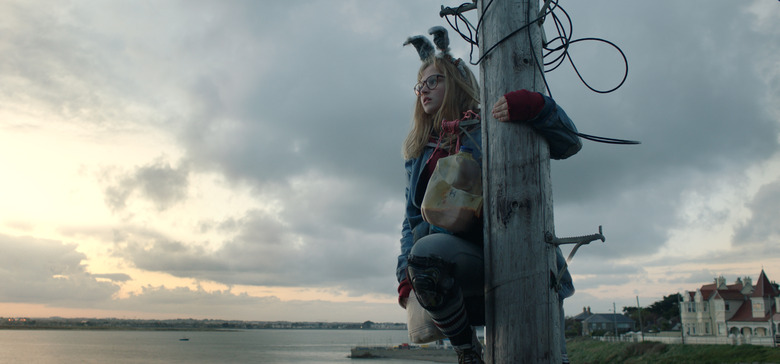 It's been an incredible decade for graphic novel adaptations, and an even better one for coming-of-age films. I Kill Giants offers the best of both, adapting the critically-acclaimed Image Comics series from Joe Kelly and J. M. Ken Niimura, which was released in 2008.
The film follows a troubled young girl who escapes from her family and school conflicts by engaging in even more fantastical ones: battling giants.
I Kill Giants Trailer
Madison Wolfe stars as Barbara Thorson, a young girl whose stoic facade hides a secret identity — that of a giant slayer. But her concerned school counselor (Zoe Saldana) is convinced that Wolfe's giant-slaying double life are part of her delusions, while Barbara's new friend Sophia (Sydney Wade) is enchanted by Barbara's boundless beliefs.
Kelly and Nimura's stark, grim graphic novel blurred the lines between fiction and reality, with readers questioning just how much of Barbara's adventures are real, and the trailer seems to do the same. Eerie, imaginative, and refreshingly female-led, I Kill Giants has the potential to be a darker Bridge to Terabithia, and recalls the visually lush, emotionally powerful 2016 fantasy A Monster Calls.
I Kill Giants made its debut at the Toronto International Film Festival last year, where it was met with positive buzz. The film written by Joe Kelly and directed by Danish filmmaker Anders Walter, who makes his feature film debut after winning an Academy Award for his 2013 short film Helium.
Here is the official synopsis for I Kill Giants:
Barbara Thorson (Madison Wolfe) is a teenage girl who escapes the realities of school and a troubled family life by retreating into her magical world of fighting evil giants. With the help of her new friend Sophia (Sydney Wade) and her school counselor (Zoe Saldana), Barbara learns to face her fears and battle the giants that threaten her world.
I Kill Giants hits theaters, On Demand, and digital HD on March 23, 2018.