Damien Chazelle To Write And Direct Apple Drama That May Or May Not Involve Jazz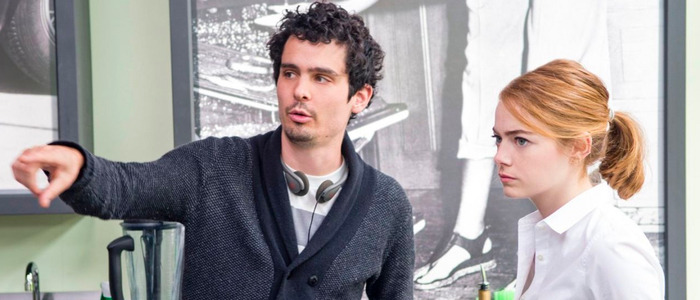 Damien Chazelle, the jazz aficionado filmmaker behind Whiplash and La La Land, is going to take a bite out of Apple's foray into original TV programming with a new series. Chazelle, who also has a series in the works with Netflix, will write and direct a drama that will reunite him with La La Land producers Jordan Horowitz and Fred Berger.
Netflix is currently reigning supreme when it comes to original programming, but other platforms aren't going to take that lying down. Apple is in the process of creating their own original programming, and they've added Oscar winning La La Land director Damien Chazelle to the mix. According to The Hollywood Reporter, Chazelle has landed a straight-to-series order at Apple. There are no actual details about what Chazelle's Apple show will be, but Apple is describing it as an "innovative drama." Chazelle will write and direct every episode, but the number of episodes is being kept a secret along with the premise.
The Apple series will reunite Chazelle with his La La Land producers Jordan Horowitz and Fred Berger. You might remember Horowitz as the fellow from last year's Oscars who held up the card revealing that Moonlight, and not La La Land, had actually won Best Picture. Meanwhile, Chazelle is also working on the Netflix musical series The Eddy, where he will direct two episodes and serve as executive producer. Chazelle also has the Neil Armstrong biopic First Man, starring La La Land's Ryan Gosling, due out October 12, 2018 (one of our most anticipated movies of the year). He's a busy fellow, that Damien Chazelle.
This new original series is just the latest notch in Apple's belt. Recently, they picked up a reboot of Steven Spielberg's anthology series Amazing Stories as well as a TV drama co-starring Jennifer Aniston and Reese Witherspoon. A Bloomberg story provided some detail on the type of original programming Apple is looking for:
Apple isn't interested in the types of shows that become hits on HBO or Netflix, like Game of Thrones—at least not yet. The company plans to release the first few projects to everyone with an Apple device, potentially via its TV app, and top executives don't want kids catching a stray nipple. Every show must be suitable for an Apple Store. Instead of the nudity, raw language, and violence that have become staples of many TV shows on cable or streaming services, Apple wants comedies and emotional dramas with broad appeal, such as the NBC hit This Is Us, and family shows like Amazing Stories. People pitching edgier fare, such as an eight-part program produced by Gravity filmmaker Alfonso Cuarón and starring Casey Affleck, have been told as much.
Per THR, Apple is expected to spend $1 billion on scripted originals. There's still no concrete idea of just where viewers will be able to watch these originals – be it through iTunes, or a new app that Apple creates. Either way, I'm sure sooner or later someone will tell us what this new Damien Chazelle Apple series is all about. My guess is it'll involve jazz in some capacity. The dude really likes jazz!