'Black Panther' Could Open With A $120 Million Weekend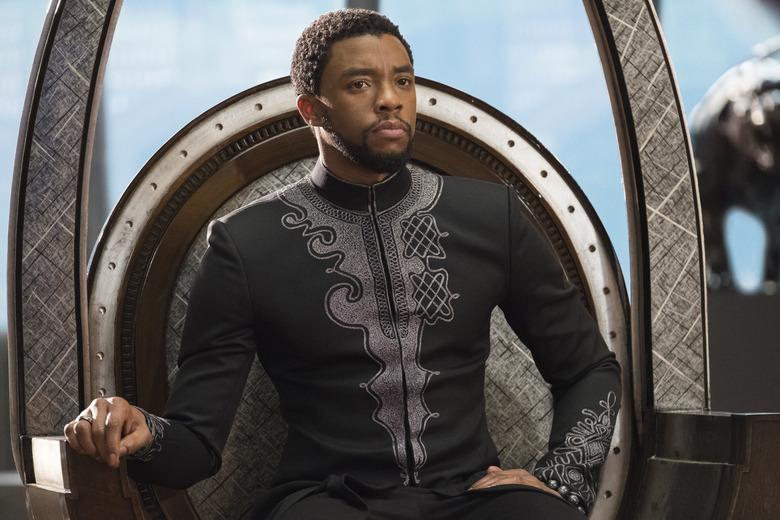 If you told me 10 years ago that the 18th movie in the Marvel Cinematic Universe would still be met with a fever pitch of excitement, I'm not sure I'd have believed you. Then again, I probably wouldn't have guessed that it'd take Marvel Studios so long to make Black Panther, the studio's first superhero movie that features not only a black leading man, but a primarily black cast (that also happens to be one of the best casts they've ever assembled).
So naturally, people are psyched. And that excitement is resulting in some impressive tracking numbers: analysts say that the Black Panther opening weekend could pull in between $100-$120 million in the United States. But I wouldn't be surprised to see it go higher.
The Hollywood Reporter says that initial estimates suggest the movie's three day domestic total could end up being between $100-$120 million. But keep in mind that A) these are early estimates, because the movie doesn't hit for another three weeks, and B) Black Panther outsold every movie in the Marvel Cinematic Universe in its first 24 hours of advance ticket sales. The movie it beat? 2016's Captain America: Civil War, which featured the first appearance of Chadwick Boseman playing Black Panther.
And that's not even mentioning the #BlackPantherSoLit hashtag, which has been steadily tearing up social media for what feels like years with every new casting announcement, image, and trailer released. The early ticket sales already indicate that this is going to be more than just a repeat of something like Snakes on a Plane, a movie that also earned a lot of social media hype but ultimately disappointed at the box office. This will almost certainly end up being a cultural touchstone similar to Wonder Woman last year (and that movie opened to $103 million).
The previous two Marvel movies, Spider-Man: Homecoming and Thor: Ragnarok, pulled in $117 million and $122 million respectively in their opening weekends, and I wouldn't be the least bit surprised to see this soar over Ragnarok. Still, it has a lot of work to do to top huge Marvel openers like Civil War ($179 million), Age of Ultron ($191 million), or The Avengers ($207 million), but I'll be damned if I underestimate this movie and the combined power of an underserved audience hungry for a hero who looks like them and the already-built-in MCU fandom.
In any case, this should absolutely obliterate director Ryan Coogler's previous opening weekend – Creed pulled in $29 million back in 2015.
Black Panther opens on February 16, 2018.