'Doctor Who' Star Jodie Whittaker Fought For The Same Pay As Peter Capaldi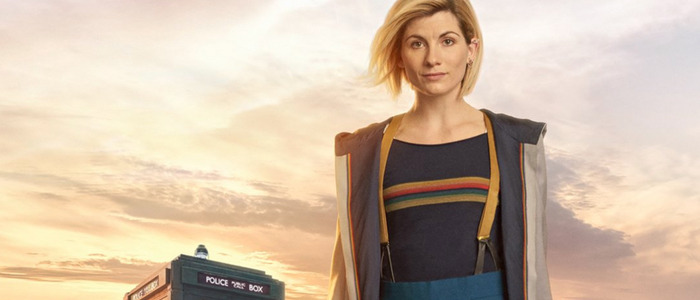 The Doctor's face may have changed, but the paycheck stays the same. Doctor Who star Jodie Whittaker is making history as the first female Time Lord, and she's shattering more than the barriers of time and space. So now that she's taking the TARDIS keys from Peter Capaldi, Whittaker is making sure she's paid the same amount as her predecessor. Because aliens aren't the only things worth battling.
The pay gap has is a pivotal issue both Stateside and in the U.K. While Hollywood stars and filmmakers are slowly gaining ground in diminishing the pay gap between men and women, equal pay has become a source of scrutiny in Britain after a BBC report on the gender pay gap revealed "astronomical" disparities between men and women at the media company. The report revealed that two-thirds of its on-air talent earning more than 150,000 pounds sterling were men and that its top seven highest-earners were all male.
British stars have put themselves at the center of the fight for equal pay, and one of those stars is Jodie Whittaker, who will soon don her rainbow-colored coat and suspenders to play the 13th Doctor in fall 2018. At the National Television Awards, Whittaker confirmed that she will be receiving the same pay as Capaldi, who departed the sci-fi series during its 2017 Christmas special after three seasons as the titular Time Lord. She told Digital Spy:
"It's an incredibly important time and the notion [of equal pay] should be supported. It's a bit of a shock that it's a surprise to everyone that it should be supported! I know I do not speak just on behalf of the women here, I speak on behalf of the men and the women."
Capaldi reportedly earned between £200,000 and £249,999 for his role as the Doctor in 2016 (around $285,000 to $350,000), which is a respectable amount — though it pales in comparison to the most popular lead David Tennant, who reportedly took in £1 million pounds for each of his three years as the Time Lord. Meanwhile the 11th Doctor Matt Smith had a pretty comparable salary to Capaldi, signing a £600,000 deal for three years.
It could be argued that Whittaker is an even bigger star than Capaldi and Smith were when they signed on to play the Doctor, earning acclaim in the popular crime drama Broadchurch (coincidentally also starring Tennant), but it's still a big step in the right direction. Whittaker has the international spotlight as the lead of the longest-running science-fiction series ever, which made a tradition of replacing its stars, and her vocal support of equal pay brings much-needed attention to the pay gap.
Whittaker's first season as the star of Doctor Who will premiere on BBC America later in the year.